The Porsche 917 is a race car which has won at the 24 Hours of Le Mans in the year 1970 and 1971. The car is powered by a 912 flat-12 engine about 4.5, 4.9 and 5 litre variants, the Porsche long tailed version attains a speed of 0-62 mph (100 km/h) in just 2.5 seconds and has atop speed of about 254 mph (409 km/h).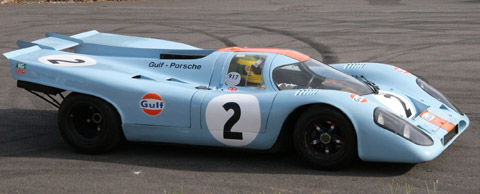 The car was unveiled 40 years ago at Geneva International Motor Show, which was underestimated when it was introduced as a sports car. The car later became one of the best racing and fastest car on the track. The car was launched in the year 1968 under the guidance of Ferdinand Piech which was fully completed in the year 1969. Also, in this year, it marked the racing debut of the Porsche 917 in a 1000km race that was held at Osterreichring.
Construction
The car contains an air cooled 4.5 litre flat-12 engine along with 4 ratio transaxle. The seat and the engine are advanced at the chassis front so that the feet of the driver are on the front wheel axle. The Porsche is known for its technology and less weight, where the first 12-cylinder engine components are made of magnesium, titanium and exotic alloys, which adds a lesser weight to the car. In addition, the gear shift knob is made of Balsa wood in order to reduce weight.
Racing history
1969
The year 1969 marked the debut of Porsche 917, where the car was tested. During the testing process the lap time was set at 3:42.5 but Porsche managed to attain the lap at 3:41.9. The long tail version also set a record of 3:37.1 the fastest lap. It also participated in several races but the 917 had seen no success, later the first championship was won at the 500km Zeltweg.
1970
In the 1970 Porsche 917 has won nine championships out of ten races.
1971
After its success in the year 1970, the Porsche 917 dominated in the year 1971 winning eight out of ten races. It also won the 24 hours Le Mans race, which was a world record that recorded the average speed of about 222km/h where 5,335 km were driven which is a world record to the present day.
1981
Porsche appeared in the Le Mans race once again, but the car was destroyed in a collision that was held after 6 hours of the race.
In the present days, the Porsche 917 is considered a legendary car. The car has nominated as the "Greatest Racing Car in History" by "Motor Sport", British trade magazine.