The Porsche 904 is a sports car manufactured by Porsche between the years 1964-1965.
In the beginning, the Porsche 904 was known as Porsche Carrera, but later it was renamed as Porsche 904. After its retirement from the Formula One race in the year 1962, Porsche then concentrated on sports car, which later led to the production of Porsche 904.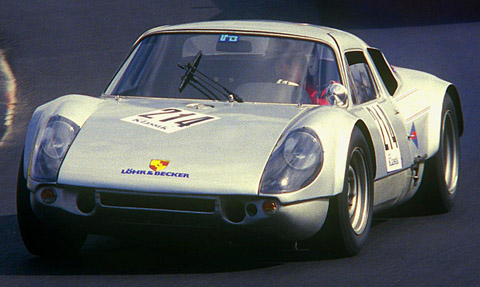 Photo by:
Spurzem
,
Creative Commons
The Porsche 904 made its debut in the year 1964, which contained a fiberglass body in a white color. The Porsche 904 designed its first GTS variant to compete in the FIA GT Championship and also at different races in the international levels. The street legal version also made its debut in the year 1964, which also contained a fiberglass body.
A total of 100 units have been produced in the year 1964 models, which consisted of flat four cylinder that produces an output power of 180 hp. Later in the 1965 models, a flat six cylinder engine has been used and flat eight cylinder engines in some of the models.
The Porsche 904 weighs about 1,443 pounds, reaches the speed of 60 mph in just six seconds and attains a top speed of 160 mph.
In the present days, replicas of the Porsche 904 is being manufactured by a number of companies such as Chuck Beck from the US as well as Martin and Walker from the UK.
Nurburgring Porsche 904 slide