The Porsche 550 is a sports car manufactured by Porsche between the years 1953-1956.
The Porsche company decided to a build a new car as an inspiration from the Porsche 356, which later led to the production of Porsche 550. The Porsche 550 is specially made to be used in auto racing. The body is very close to the ground, which is perfect for auto racing. The car was first driven by Hans Herrmann, former German Formula One driver, where he drove the Porsche 550 in closed railroad crossing gates in the 1954 Mille Miglia (thousand-miles open race).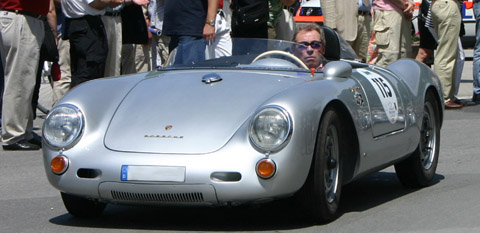 Photo by:
Softeis
,
Creative Commons
The Porsche 550 was later known as "Giant Killer" due to its success in a number of races. Among the victories, the victory at the Targa Florio held in the year 1956 earned a great name for the Porsche 550. The Porsche 550 became infamous on September 30th, 1955 when the actor James Dean was killed in the car.
The Porsche 550 is also reproduced among the other automobiles such as Lotus Seven and Shelby Cobra. In addition, a number of companies are producing replicas of the Porsche 550, which include Boulder Speedster, Automotive Legends, Thunder Ranch, Vintage Spyders, Alloycars, Chuck Beck Motorsport, Chamonix do Brasil and Holmes Motor Company.
Porsche 550 Spyder Review