Porsche cars have such a reputation that they have become an iconic status symbol among car enthusiasts. Porsche cars are famed for their performance and quality of build.
Over the years many colors have been introduced. Some of the colors are standard while the others are as per special order. Blue is one of the favorite colors for Porsche buyers. Some of the shades of blue available in the Porsche line up are: Ossi Blue, Ultra Blue, Metallic Blue, Crystal Blue, and Pastel Blue etc. Blue colors, which are painted under special orders, will be a costlier option. The paint job in a Porsche car will be of top quality. The blue shade will be painted on top of a base coat and it will be finished off by giving a clear coat. The clear coat will ensure that the blue shade does not lose its sheen for the lifetime of the car.
Blue Porsche 911 GTS

Blue 2011 Porsche Panamera Individualization Programme

Blue Porsche 911 Speedster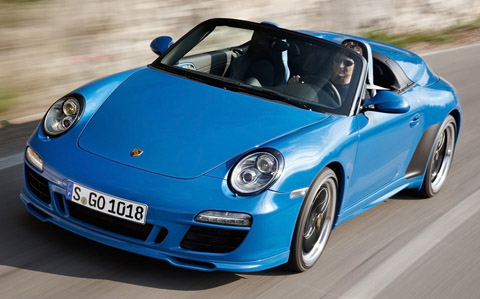 Check out other Porsche colors!