The Porsche 911 is a timeless classic that is a trendsetter in more ways than one. For one, it has fundamentally never changed since 1964, and yet it is still one of the best touring cars around.
A true "everyday supercar", it is a perfect balance of speed, practicality, and innovation. One of the most popular models in the 911 line is the Turbo.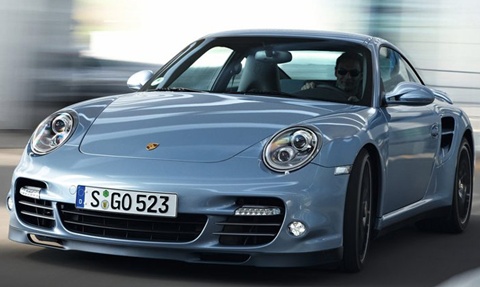 Specifications
General Info

| | |
| --- | --- |
| Vehicle Type: Super Sport Coupe | Base Price: NA |
| Fuel Tank Capacity: 17.7 gallons (67 liters) | MPG: 17 city / 25 hwy |
Dimensions

| | |
| --- | --- |
| Length: 176.2 in. (447.5 cm) | Width: 72.9 in. (185 cm) |
| Height: 51.1 in. (128 cm) | Wheel Base: 92.5 in. (234.9 cm) |
| Curb Weight: 3494 lbs (1585 kg) | Ground Clearance: NA |
| Luggage Capacity: 4.7 cu ft | Maximum Seating: 4 people |
Performance

| | |
| --- | --- |
| Engine: 24-valve Twin Turbo DOHC Flat-6 | Displacement: 3800 cc |
| Horsepower: 530 HP | Max RPM: 6250 RPM |
| Torque: 516 lb-ft @ 2100 rpm | Transmission: 7-Speed Dual Clutch Automatic |
| 0-60 mph: 2.9 seconds | Top Speed: 195 mph (314 km/h) |
As the name suggests, it uses a turbocharger to boost engine output ay at least 25 percent. Starting in 1976, the 911 Turbo cars have always been one of the fastest vehicles in the world during their time. And now, 35 years later, the tradition of the Turbo lives with the 2011 Porsche 911 Turbo S, the most powerful 911 Turbo yet.
The 2011 Turbo S is based on the current generation Porsche 911, the 997. And according to the guys from Stuttgart, Germany themselves, this is for the driver that only settles for the best. While it looks like the ordinary Porsche 911 Turbo, this is made to be head and shoulders better to the already competitive Turbo.
Performance
Of course, the star of the show is the same 6 cylinder boxer engine that powered the 911. Also, befitting its name, it is equipped with a turbocharger that significantly boosts experience. But it doesn't stop there. There are 2 turbochargers found in this car, each equipped with variable turbine geometry. This increases the already impressive numbers of the 911 Turbo into 530 horsepower (a 30hp increase from the Turbo) and 516 lb/ft of torque. But the incredible thing is, despite its ferocious output, it is the most fuel efficient car in its class, knocking in an estimated 25 miles per gallon, which is super impressive given its performance credentials. And performance credentials are something that this car has a lot of.
So, here are some of those performance credentials. Zero to 100 kilometers per hour comes in 3.3 seconds, zero to 200 kilometers per hour comes in 10.8 seconds, and top speed is rated at over 300 kilometers an hour. Those are numbers that are well within supercar territory. Even more amazing about the 911 Turbo S is that it is equipped standard with the features that are optional even for the 911 Turbo. Some of the equipment includes the critically acclaimed Porsche PDK 7 speed dual clutch gearbox, a specialized 4 wheel drive system with torque vectoring, and ceramic composite brakes.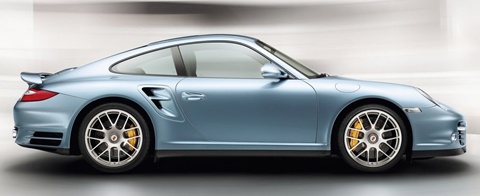 Exterior & Interior
Even though it is a punishing, no compromise sports car, it doesn't lack the flair and elegance that Porsche traditionally has. Dynamic bending lights, adaptive seats, a premium entertainment system, and a custom two tone leather upholstery schemes makes sure that the driver feels at home while using this vehicle.
The Porsche 911 Turbo S is a unique car. It is every bit worth the price. As one of the most exclusive Porsche 911s ever built, it is a top tier model in every sense of the word.