Porsche AG is ready to share with the world a stunning road automobile engineered and equipped with race car specifications in their latest limited edition racing car: 911 GT3 RS 4.0. Stuttgart-based Dr. Ing. h.c. F. Porsche AG expertly developed a luxury commercial sports vehicle with performance and design that reflects the illustrious race track lineage quintessential of the German automobile manufacturer.
The 911 GT3 RS 4.0's 4 liter displacement sports flat-6 engine (optimum torque of 460 Newton meters at 5,750 rpm) promises 500 HP at 8,250 rpm that goes from 0-62 mph (100 km/h) in as little as 3.9 s.—leaving all other sports cars to bite its dust. Despite its truly impressive high-octane engine system (the most massive engine in the 911 line to date), the 911 GT3 RS 4.0 isn't entirely a gas guzzler; on the other hand, it's capable of achieving 125 HP (93 kW) per liter—making the 911 GT3 RS 4.0's engine the most potent engine aspirated naturally.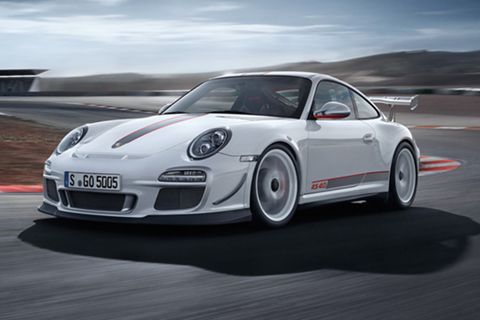 Additionally, the limited edition 911 GT3 RS 4.0 comes exclusively with a 6-speed sports automatic transmission and jaw-dropping gears virtually built for race circuit driving—taking its privileged driver to 124 mph (200 km/h) in 12 seconds or less.
Balancing high-fuel performance with superior racing maneuverability, Porsche AG carefully developed the 911 GT3 RS 4.0 at the drawing table by tailoring weight reduction with light-weight automobile components such as a dynamic suspension, carbon fiber front and bonnet wings, plastic rear windows, bucket seats and weight-maximized carpets. In fact, the twin-seater 911 GT3 RS 4.0 is only 1,360 kg on a full tank. The rest of the world can just sit back and marvel as the 600 limited edition units are produced.