Porsche is at it again to make every sports car enthusiast or even none enthusiasts drooling again with the release of the 2011 Porsche 911 GT2 RS. Porsche recently unveiled to the public the newest addition to their family that is sure to be the most powerful street-lethal model ever built in the entire planet. Sold in limited edition with only 500 units, in a matter of hours all units were sold out – faster than anything anyone sold.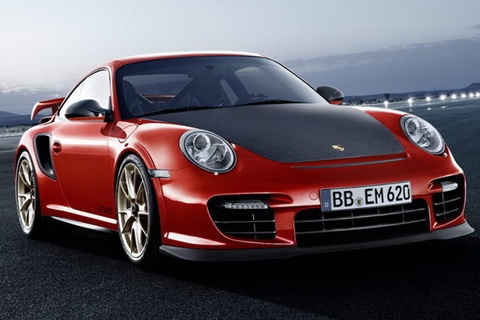 Performance
This model features a 3.6 liter boxer-6 engine which can produce a tremendous 620 horsepower. If you still find that vague, maybe the twin turbo charger will do the visuals for you. The company has successfully managed a reduced weight by 154 lbs uncompromising power. The vehicles ratios are exceptional with an amazing 4.9 lbs per horsepower weight to power ratio and horsepower to liter ratio of 172.2 lbs per horsepower – certainly one of the most remarkable ratio figures in its class.
It is bound to leave all other cars in the dust as it can sprint from 0 to 62 mph in 3.5 seconds, to 124 mph in 9.8 seconds, and 186 mph in less than thirty seconds. It can reach a top speed of 205 mph in a little over thirty seconds. In spite of improved speed and acceleration, this model is in harmony with the environment cutting carbon emission and reducing fuel consumption by 11.9liters/ 100 km. To complement such speed and power are a state of the art PCCB composite ceramic brakes, unique suspension system from Porsche and its innovative anti-roll bars.
Interior & Exterior
Interiors can never get as sporty as this with lightweight seats made from CFRP (carbon fiber reinforced plastic) for durability yet lightweight effect and finished off with sleek carbon surface.
Many customers were very pleased that fuel consumption and carbon emission were reduced. This is said to be 5% more efficient than any other sports car.
With all of that featured in this car, you are sure to feel satiability despite tremendous power and speed and full control and maneuverability over your car. The interior of this model exude a certain degree of sportiness without compromising elegance and luxury observed in almost every detail inside. Door panels are very lightweight matched with also very lightweight door straps. The interiors is elegantly splashed in black making a beautiful contrast with other features inside such as the roof lining, seat center sections, and some segments observed on the steering wheel. Another great contrast is the red Alcantara colored gear shift and handbrake lever.

Braking
They were also impressed by its supreme stopping power mainly thanks to the new PCCB composite ceramic brakes featured in this vehicle. You are also ensured of an appropriate longitudinal and crosswise dynamics due to the way the RS springs are sported and set-up, the PASM also known as the Porsche Adaptive Suspension Management, the anti-roll bars, and the PSM also known as the Porsche Stability Management.
Overall, this car is one of the coolest you will ever see being driven on the streets. With sleek design and features unmatched by any other sports car, this bad boy will take you on a supreme driving experience at first ride and have you in complete you on first glance.
Specifications
General Info

| | |
| --- | --- |
| Vehicle Type: Coupe | Est. Price: $280,000.00 |
Performance

| | |
| --- | --- |
| Engine: 3.6-liter Flat-6 | Horsepower: 620 HP |
| Transmission: 6-Speed manual | Maximum Seating: 2 people |
| 0-60 mph: 3.5 seconds | Maximum Speed: 205 mph (329.8 km/h) |