Gemballa, one of the world's best tuners of Porsches, is at it again. They have stolen the thunder at the Top Marques Monaco, which some people say is the world's most exclusive car show. They did it with their 2 new cars, one based on the Porsche Panamera, the Mistrale, and the other, based on the Porsche Cayenne, the Tornado. Thus, we take a look at the Mistrale.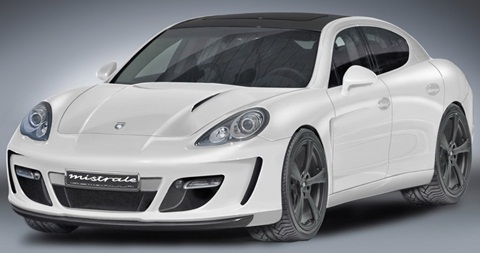 Styling & Performance
The body of the stock Panamera has been replaced with carbon fiber composites that Gemballa themselves have created and designed. These unique panels impart the Mistrale with a style that is unique from all Panamera's and a body weight that is significantly dropped. Gemballa then installs 22 inch forged wheels into the Mistrale, which is both lighter and stronger than the stock 20s Porsche equipped when it made its way off the assembly line. 380mm brakes on the rear and 410mm brakes on the front are co-developed with Brembo, ensuring serious stopping power.

Going inside the car, and you will find that its craftsmanship is top notch, to say the least. Wrapped in Alcantara leather, even the smallest details in this car have been well thought of. But if you think this is just all show, just wait until you press on the accelerator. Modifications on the Porsche twin turbo V8 allows it to gain a maximum output of 610 horsepower, guaranteeing some dizzying speeds when provoked.
Gemballa has done it again. With the Gemballa Porsche Panamera Mistrale, they have shown once again their expertise, and they did it on one of the biggest automotive stages in the world at that.
Specifications
Performance

| | |
| --- | --- |
| Engine: Twin Turbo V8 | Horsepower: 610 HP |
| Torque: 626 lb-ft | Transmission: NA |