Panamera SP560- the latest addition in Porsche's roster of sports cars. Unlike most sports cars which look too rugged, the Panamera SP560 has an elegant appearance. Its stylish design makes it look like a luxury car more than a sports car. It has even been referred to as a sports limousine by some. But don't be fooled by its looks. This car is equipped with big guns!

The car is has an 8 cylinder 4.8 liter engine and twin turbocharger aspirations. This engine provides the car with 560 horsepower. The car is equipped with 265/30 tires in the front which keeps the car in contact with the ground as it is running. For further stability, the back of the car is supported with 305/25 tires. This model provides dynamic driving. Its ESC suspension can be programmed according to the driver's preference. The modifications in this unit have considerably increased the torque from 700 Nm to 790 Nm which is actually very powerful!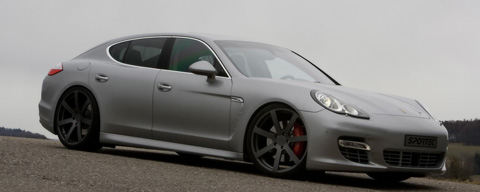 A sports car that is stylish from the inside to the outside is what best describes the Panamera SP560. Even the exhaust outlets are made stylish using stainless and lustrous steel. Responsive controls complete a driver's experience with this car.