A super sports car that can spring from 0 to 100 kilometers per hour in a matter of 3.2 seconds, the 2010 Sportec Porsche 997 Turbo SP 580 satisfies those with a need for speed.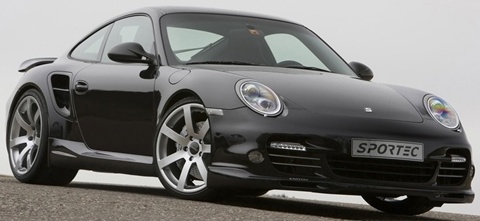 Powered by a 3.8-litre 6-cylinder boxer engine, the car can be hurled from zero to 100 km/h in 3.2 seconds and to 200 km/h in an amazing 10.3 seconds. The supercar's top speed is 323 km/hour. Style-wise, the Sportec Porsche 997 Turbo SP 580 comes with a reshaped front spoiler, discrete side skirts and bigger tail plane. High-performance 20-inch wheels set in Sportec Mono 7 design and a lowering set that brings the chassis around 20 millimeters nearer to the ground add sporty appeal. A suspension can be tailor-fitted to suit individual taste and purpose or race track requirements.
Being loaded to the gills with high-tech features, and given its enhanced drivability plus drop-dead curb appeal, the car offers unadulterated pleasure. Overall, the 2010 Porsche 997 Turbo SP 580 is one eye-catching package.