Porsche has always been a key player in producing top of the line, super cars. One of their latest models, the 2010 Porsche 918 Spyder concept is the quintessential sports car but remains in sync with the environment with lesser CO2 emission just like a compact car.
This is by far the most environmentally friendly sports car out there emitting only 70 grams per kilometer of CO2 and a lesser fuel consumption of only 3 liters per 100 kilometers. This model is one car environmentalists will not be guilty to use plus it is very cost effective in terms of fuel consumption.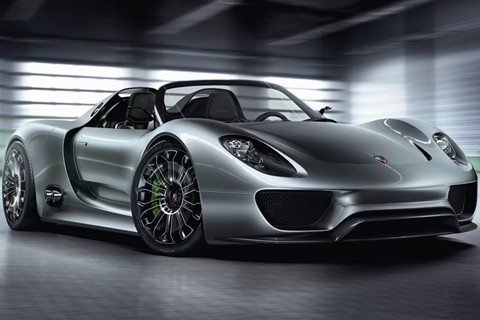 Performance
It is a mid-engine, two-seater sports car powered by a V8 engine which produces more than 500 horsepower with three electric motors covering an overall power output of 218 horsepower. Because it consumes less fuel, people might think this car will not perform.
Actually, this model's performance is quite impressive: it can accelerate from 0-60 mph in under 3.2 seconds; it has top speed of 198 mph which can compete well enough with other sports cars; a lap time of 7 minutes and 30 seconds on the Nurburgring, the standard ring sports cars are tested. The innovation with this model combines Porsche's ingenuity in performance technology, technologically advanced motorsports, and contemporary yet classic design making a statement across continents.
Exterior & Interior
On the outside, this model is designed with special aerodynamic calculations and materials to make it lightweight and sturdy at the same time. It carries a modular structure with a monocoque body shell made from carbon-fiber reinforced plastic. Magnesium and aluminum alloys were also used to not only greatly reduce the car's weight to 1,490 kg but also deliver very high torsional stiffness which ensures precise driving experience.
The variable aerodynamics observed in this car, the archetypal Porsche, ensures customers of a traditional visionary and highlights observed specially in the rear spoiler. The outstanding rear hoods protruding out of the headrests, not only delivers an aerodynamic function to this model but well accommodates retractable air intakes together with ram air functions. On the inside, a sports car can never get as comfortable as this. The two-seating capacity of this model ensures the driver and the passenger are perfectly seated and embedded on their respective seats.

Features
Rising upward to the front is the center console of the 918 Spyder contains a touch-sensitive surface for easy control of the functions of this car. This feature ensures that the number of visible controls is reduced to maintain the company's principle of direct operation. This model has many added features such as the Range Manager. Upon activation of this feature in the Center Display, the system uses a map to visually present to you the range your car can still be able to cover. This naturally allows you to adjust and influence the range by using the right amount of power and performance to increase range.
Overall this car is one reminiscent of the classic sports cars but innovated with high-tech features and amped performance to be able to compete with the growing automobile industry. With Porsche's ingenuity and continued pursuit of excellence, the company will stay on top of the game chain producing top of the line sports cars for every sports car enthusiast.
Specifications
General Info

| | |
| --- | --- |
| Vehicle Type: Hybrid-SuperCar | Est. Price: $845,000.00 |
Performance

| | |
| --- | --- |
| Engine: 3.4-liter V8 | Horsepower: 500 HP with 218 Hp from 3 electric motors |
| Transmission: 7-Speed Automatic | Maximum Seating: 2 people |
| 0-60 mph: 3.2 seconds | Maximum Speed: 198 mph (318 kmh) |