Porsche has earned the reputation of being one of the world's leading luxury/sports car manufacturers and rightly so. Over the years, it has churned out quite a number of awe-inducing automobile wonders, and the 2010 Porsche 911 Turbo is no different.
The newest member of the 911 family is a 2-door coupe production car. However, unlike its forerunner, the new 2010 Porsche 911 Turbo includes a completely new flat-six boxer engine that delivers 500 bhp and displaces 3.8 liters. The youngest yet possibly most powerful member of the 911 Turbo models also features Direct Fuel Injection (which was first introduced on the GT2) and Porsche's signature VTG turbocharger system.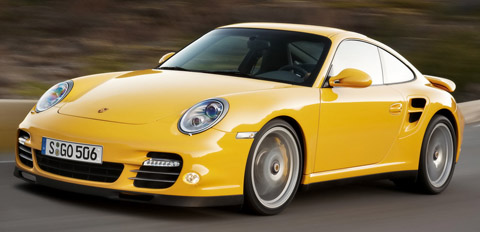 For those who would like to get an even more revved-up 2010 Porsche 911 Turbo, they have the option to equip their Turbo with the Sport Chrono Package Turbo. This package includes Porsche's new PDK seven-speed transmission and dynamic mounts. The seven-speed transmission enables the car to zoom from 0 to 60 mph in 3.2 seconds, while the dynamic mounts use magnetic fluid that regulates automatically for sport or comfort depending on driving conditions.

2010 Porsche 911 Turbo Review