Stuttgart introduces a new Porsche 911 GT3 RS that delivers more engine power, has lesser weight, and has a shorter transmission ratio and higher standards of body and suspension elements. The new 911 GT3 RS offers what a car must need to be successful in the race track.
The power unit of RS is the same with the 911 GT3 but it displaces 3.8 liters instead of 3.6 liters thus delivering greater power and speeding up faster and more vigorously. Its engine conveys 15 bhp, which is larger than the 911 GT3. RS delivers a maximum horsepower of 450 hp, which means that the six cylinders deliver 118 bhp per liter each. This output is already a high figure in today's natural-aspiration technology. This car remains appropriate for everyday use even if it produces much power. 911 GT3 RS also showcases its six-speed manual gearbox finessed for short gearshift travel, less weight and higher efficiency.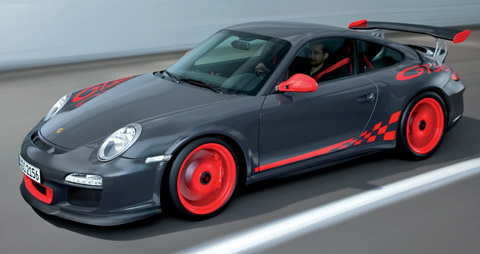 RS comes with a purpose built and specially fixed up for PASM suspension and has a wider track both on the front and rear axle. The cars aerodynamics is also improved with a much more downforce than that of GT3. This model also has exclusive features like it has an extra-large carbon fiber rear wing that is made of aluminum, the dual tailpipes on its exhaust system, and the special front and rear parts. This new Porsche 911 GT3 RS will be on sale in January 2010 starting in Germany. The price in euro with no value added tax is €122,400.