Masonry Switzerland is a specialist for fine-tuning Porsches in the Zuffenhausen Gran Turismo. Devoting itself into developing the Porsche Panamera Turbo, they enhanced it through a performance and aesthetic package with a twin turbocharged 4.8 liter V8 engine granting 690 horsepower, 590 lb-ft at 4800 rpm of torque and stunning body work.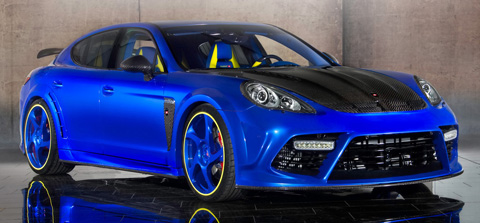 Pieces of the car's bodywork fit perfectly with each other like a puzzle, turning every side of the Masonry enhancement into a vibrant highlight. A new carbon fiber hood is placed on the front of the car, along with a new front apron with modified LED daytime driving lights. The doors are wider, and they suit the new side skirts flawlessly. To the rear of the vehicle is a massive carbon fiber diffuser, and centrally mounted mufflers with double-end pipes. Masonry gives the driver the option to decorate the rear with carbon fiber parts, or to modify it completely with a carbon fiber spoiler. High-durability polyurethane (PU-RIM) and Prepreg-Autoclav-Carbon are the materials used for the vehicle's aerodynamic enhancements, which is the distinctive material used by the Masonry brand.
Beyond the exhilarating visuals of the car, Masonry also augmented the Panamera Turbo's 4.8-liter V8 engine. This performance package includes modified engine electronics, huge turbochargers and a stainless steel double end sports muffler. These upgrades raise the vehicle's engine output to a staggering 690 horsepower / 507 kW, and torque to 590 lb-ft / 800 Nm at 4800 rpm. The car accelerates from 0 to 100 km/h in only 4 seconds, and the vehicle can reach top speeds of 328 km/h.
The wheel-tire combination is custom-built specifically for this high-performance vehicle. The set includes four lightweight 22-inch forged wheel-in-turbine design rims. The front of the car is carried by a pair of 9-inch wide Dunlop SP SportMaxx tires with dimensions of 265/30ZR22, while the rear of the car is carried by two 10-inch wide tires with dimensions of 295/25ZR22 also from Dunlop.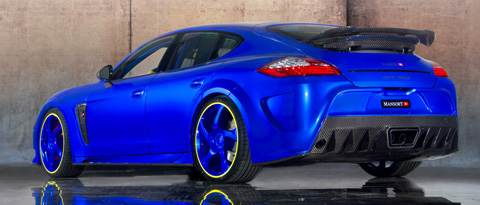 The interior of the car is extensively polished with matching leather and the most precious wood, fine varnish or energetic carbon parts. Aluminum pedals complement the interior together with a newly designed sports steering wheel.