The 2010 Panamera is a four-door luxury sedan being offered by one of the world-famous car makers -- Porsche. With its 4.8-litre V8 engine, this luxury car is capable of producing tremendous amounts of horsepower, ranging from 400-500 hp depending on the Porsche Panamera model of your choice.

However, Cargraphic's Porsche specialists in Germany have proven that with a little modification, the car's already impressive potential to produce a lot of power can be increased by ten percent. The modification has added an extra 50 hp and 75 nm of torque to the wheels turning the car's overall output to 550 hp/ 404 kW. The 2010 Cargraphic Porsche Panamera Power Pack boasts of its ability to get this luxury sedan moving from 0 to 100 km/hr in a little over four seconds. You need not also worry about the car's speedometer needle because it has been found to still respond even when you hit the 300 km/hr mark.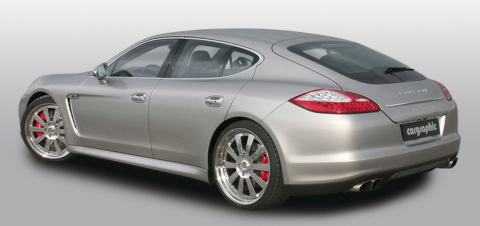 Aside from the modification in the Engine Control Unit (ECU), the power pack also comes with two sport air filters to allow more oxygen to reach the turbo. The price of this impressive power-boosting pack is approximately 1,495 Euros (plus VAT). In fact, to exalt the status of the 2010 Cargraphic Porsche Panamera power pack even more, the company is also gladly offering attractive alloy wheels which are available in various sets.