The TECHART releases the Porsche Cayman which include many features; the two Aerokit, daytime running lights, a set of sports spring, and the carbon interior package. This is a dream come true for clients who wants an individual exclusivity of their cars because this is improved both in exterior and interior designs.
Porsche Cayman has a new Aerokit component that is tested by the use of a wind tunnel to optimize its drag coefficients. Compared with previous TECHART Porsche, Cayman has a higher downward force. You are assured of its stability even at greater speeds because of the firm rear spoiler and rear apron diffuser placed in the car. Compared with other series models, Cayman has a booming and hollow sound of engine if it reaches its maximum power at highest RPMs.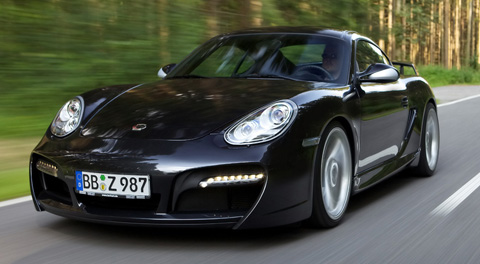 TECHART Porsche Cayman has LED system units that combine daytime, idle, and parking lighting in a single organized casing. These modules are sophisticatedly incorporated at the front spoiler the upper part. Its 20-inch aluminum wheel is great in transmitting the power produced by a 3.4-liter engine. The company's Formula I, Formula II and Formula III copied wheels ensure that there is enough ventilation for the arches wheels and permits the braking system to be viewed. There are various interior designs you can choose from and many additional accessories are also available whenever a client needs them like the aluminum sport pedals, the 3-spoked sport steering wheel and the illuminated entry sills.