Mansory Switzerland AG has long been known as an in-house specialist for Porsche. This company unveiled the newest model of the Chopster: the 2009 Mansory Porsche Cayenne Chopster. This was presented at the Frankfurt Motor Show as an SUV version of the Turbo S.
The 2009 Mansory Porsche Cayenne Chopster boasts of a modified V8 turbo engine with 710 horsepower. The body of the car was made using very light carbon which not only boasts of strength but also reduces the weight of the car. Hardened under the strong pressure and high temperature of an autoclave, the reduced weight of the car increased the acceleration as well as trimmed down the car's braking distance and fuel consumption. The maximum torque that the car could reach is at 900 Nm with speeds up to 302 kilometers per hour. The car could also be modified so that its center of gravity is lowered up to 45 millimeters.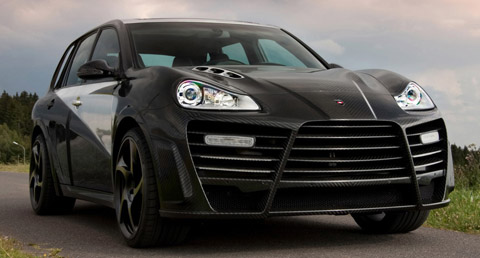 The SUV is also modifiable in terms of its interior. It uses leather that is not only hard to wear out but also soft and hand-finished. The designers use leather skins and accentuate these with decorative stitches that are discreet. People are offered with two monitors along with a DVD player. It is also equipped with a laptop with internet connection. The interior of the car is divided by the center console that spans the length from the back seat to the dashboard. The four seats are designed as sports car seats. All in all, it gives off both a plush and sporty feel.