Originally meant for the racing circuit, the 9ff Porsche GT-T900 was redesigned for the streets. It was designed to be the fastest Porsche on the planet. Due to some budget reallocations, the car was made available to hardcore drivers with money to spare.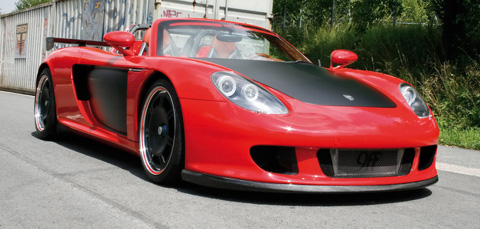 The 9ff Porsche GT-T900 has twin turbochargers that give the rear-mounted engine an output of 900 hp at 7,750 RPM. This was intended for utmost reliability and superior performance. A special coated clutch is better for daily use and sends more power to the wheels. It is recommended to add a front spoiler and a rear wing to the car to achieve more downforce in the front and back.
The modifications of this car include a carbon fiber chassis, 19-inch magnesium wheels, high performance ceramic breaks and a ceramic dual disc clutch. A new suspension system has been added as well.

The exterior of the 9ff Porsche GT-T900 is painted a nice, race-car red. The hood and doors are made of carbon fiber. It is a two-seater with attitude.
Specifications
- Price: almost €500,000
- Engine: 5.7 liter V10
- Aspiration: twin turbochargers
- Horsepower: 900 hp
- 0-62 mph in 3.2 seconds
- Top speed: over 236 mph
- Units produced: around 1,270