Hardcore motoring enthusiasts love the sharpest, fastest, and most thrilling sports cars that are not only eye-riveting but demand the utmost from the driver. While most car buffs opt for the fast car with appeal, others simply go for a functional sportster with the idea of fun factored in.
One exciting option may be to slip behind the wheel of the 2011 TranStar Racing Dagger GT. Brace yourself for a rousing ride when units roll off the assembly line in the coming years.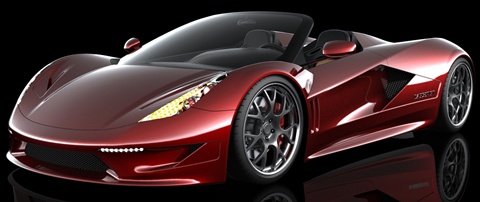 Specifications
General Info

| | |
| --- | --- |
| Vehicle Type: Super Sport Coupe | Est. Market Price: $450,000.00 |
| Fuel Tank Capacity: 26.4 gallons (100l) | MPG: NA |
Dimensions

| | |
| --- | --- |
| Length: 192 in. (487.6 cm) | Wheelbase: 106 in. (269.2 cm) |
| Height: 42 in. (106.6 cm) | Width: 84 in. (213.3 cm) |
| Curb Weight: 2500 lbs (1134 kg) | Ground Clearance: 4.0 in. (10.1 cm) |
Performance

| | |
| --- | --- |
| Engine: BBC Twin Turbo 632 cubic inches, V8 twin turbo | Displacement: 10.3 liters |
| Horsepower: 2000 HP | Max RPM: 6250 rpm |
| Torque: 2000 lb-ft | Transmission: 6-Speed Mendeola |
| 0-60 mph: 1.5 seconds* | 1/4 Mile: 6.6 seconds* |
| Standing Mile: 280 mph*(1609 km/h) | Top Speed: 315 mph*(1609 km/h) |
*Times & Speeds are based on engineering formulas and not actual tests.
Engines
TranStar has proposed a racing car that can go from 0 to 60 miles per hour in an astounding 1.5 seconds, and a projected top speed of 315 mph. The base engine inside this supercar comes from Nelson Racing Engines, a polished aluminum BBC Twin Turbo 632 cubic inch V8 that produces 2000 HP on racing fuel mix and 1300 HP on gas from the pump. Fuel delivery is through twin tanks, the primary tank holds 26.4 gallons, while the other holds 13.2 gallons of racing fuel.
Car buffs may opt for any of three models – a hardcore racer, a street-legal or comfortable sports version, or a luxurious GT-X model. The racing packages offered are the base GT-R with a 2000HP engine, the GT-LS (Land Speed) with 2700 HP driving it, and the GT-D also with a 2700 HP tuned for drag racing.

Street legal options for the 50 states include the GT-S, that will have a 600-800 HP version of the GT-R, the GT-SS (Super Sport) which can be fitted with either the 2000 or 2700 HP engine, and of course the GT-X which can be fitted with the engine of your choice.
TranStar plans to produce only 5 of these for 2011, and 10 in 2012.
Whichever model you choose, they will be hand made and be customized according to your specifications. These craftsmen leave no stone unturned when conceptualizing the 2011 TranStar Racing Dagger GT, which is based on a mid-engine Corvette concept car.
Its sleek space-age carbon fiber body will be constructed by the aerospace industry. The aerodynamics on this vehicle will be a factor when it comes out. It is a mere 4 inches off the ground, this feature alone will help keep it low to ground and enable it achieve stability at high speeds.
To date, there has been no official time on what the top speed of the Dagger GT is. It will certainly be interesting to see how the 2011 TranStar Dagger GT will fare against the likes of the Bugatti Veyron and other top ranked fast cars.