The 2012 Nissan GT-R is the latest Super Luxury Sports car from this well known Japanese manufacturer. The GT-R is the sports car that offers substantial output and top-tier performance at a reasonable price.
To date, the 2012 GT-R is perhaps the best yet in the series since its debut, boasting significant upgrades that are sure to satisfy shoppers looking for unparalleled driving power and handling.
While wrought with a few minor issues, the overall performance makes the GT-R a bargain compared to its rivals.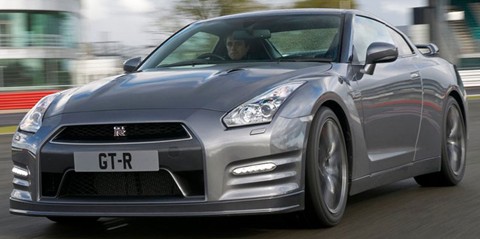 Specifications
General Info

| | |
| --- | --- |
| Vehicle Type: Coupe | Base Price: $89,950.00 |
| Fuel Tank Capacity: 19 gallons (71L) | MPG: 16 city / 23 hwy |
Dimensions

| | |
| --- | --- |
| Length: 183.9 in. (467.1 cm) | Wheel Base: 109.4 in. (277.8 cm) |
| Height: 53.9 in. (136.9 cm) | Width: 74.6 in. (189.4 cm) |
| Curb Weight: 3829 lbs (1736 kg) | Ground Clearance: NA |
| Luggage Capacity: 8.8 cu ft | Maximum Seating: 4 people |
Performance

| | |
| --- | --- |
| Engine: 24 Valve Twin Turbo V6 DOHC | Displacement: 3.8 Liter |
| Horsepower: 530 HP | Max RPM: 6400 RPM |
| Torque: 448 lb-ft @ 3200 rpm | Transmission: 6-Speed Auto-Manual |
| 0-60 mph: 2.7 seconds | 1/4 Mile: 11.1 seconds |
Available Trims & Engine

| | |
| --- | --- |
| Option:Black Edition | MSRP: $95,100; MPG: 16 city / 23 hwy |
Engine & Performance
The GT-R comes in two trims: Premium and Black Edition. Both are equipped with a 3.8 liter twin turbo-charged V6 engine. The model boasts of a 448 pound-feet of torque at 3,200 to 6,000 rpm and 530 horsepower at 6,400 rpm. Some shoppers may not be too familiar with its automated manual transmission which will seem awkward with low speeds.
Nonetheless, the GT-R remains among the list of the fastest cars in terms of acceleration. The GT-R 2012 is also equipped with an all-wheel drive which delivers fluid handling dynamics. Steering is precise and direct but some may argue that it's less comfortable compared to its pricey competitors.
Exterior
There is indeed a marked distinction that separates the 2012 Nissan GT-R from its European and American competitors. It fashions a more conservative digital age look and feel, undeniably less showy than Italian builds. It does have a few quirks that make it easily recognizable, from the roofline chopping into the rear end, a large rear wing and circular tail lamps.
Interior
The interior is typical of its vehicle class, sleek and sporty. However, the GT-R might not be the most pleasant ride for backseat passengers as well as large bodied drivers. The back seat is best left for cargo rather than passengers. Compared to other brands, the GT-R may not be as luxurious.
On the plus side, the GT-R comes with state of the art interior features. All of them, from the navigation system to phone and network connectivity are up to standards and are placed in a smart, easy to access arrangement. The GT-R also has a large usable trunk space which is rare in sports cars.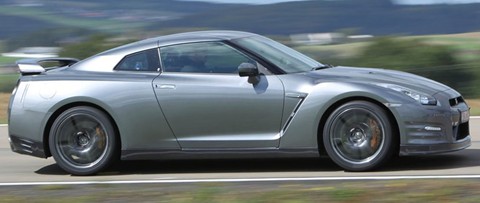 Safety & Reliability
To date, the GT-R has not undergone any crash testing by the federal government or any Insurance Institute. Despite this, this model comes equipped with several standardized safety features from side airbags and curtain airbags. The car also comes with an Anti-Brake lock system as well as intelligent stability control features.
This helps in keeping the ride smooth and safe given the tremendous output the GT-R exudes. The car has garnered a score of 3 out of 5 in terms of predicted reliability from the standards set by J.D. Power.
Overall
The model boasts a tremendous output that rivals most sports cars in the market while having a much more reasonable price tag. Interior design is intuitive but places less value in comfort and luxury.
While the GT-R has several on board safety features, any real standardized safety testing is still on the way. Indeed, the 2012 Nissan GT-R is the ultimate choice for those looking for a powerful, sleek and reliable ride along the fast lane.
Competition
Higher priced competition like the V10 Audi R8 (MSRP $149,000; 12 city / 19 hwy), Chevrolet Corvette ZR1 V8 (MSRP $111,600; 14 city / 21 hwy), and the new Porsche 911 Turbo H6 (MSRP $137,500; 16 city / xx hwy) are considered alternatives to the GT-R.
Overall Rating


79 out of 100
What others say:
"The 2012 GT-R outraces some of the world's top sports cars, at a fraction of their price."Car Connection
"GT-R corners with virtually zero body lean especially at speeds suitable for public roads. The steering is well weighted, but it demands near-constant attention because the tires want to follow any and all pavement grooves. The touchy brakes take a bit of getting used to, but they deliver excellent control with a firm pedal."Consumer Guide
"The latest Nissan GT-R is a pussycat compared to the previous iteration. It's still a fire-breathing performance machine that can out-accelerate anything in its price range, but where the previous GT-R was scary to know and not much fun to drive, the new one is playful and entertaining and fun."MSN Auto-ConsumerReports
"If you're looking for cutting-edge performance in a fairly exclusive car, the GT-R is likely to be far more satisfying than a BMW M3, Audi R8 or Chevrolet Corvette Z06."KBB
"Stupefying acceleration; very high handling limits; easy to drive; fast; high-quality interior; bargain price. The 2012 Nissan GT-R proves that world-class performance can be attained without stratospheric prices."Edmunds