During these difficult times, with the economy being down and gasoline prices' reaching record highs, deciding to buy a car involves having to make a number of important considerations. Gone are the days when all a prospective car buyer needed to do was to pick a car he or she wanted and purchase it right away. Today, a consumer must take into consideration a number of important factors, such as the automobile's practicality, comfort, utility, and of course, its affordability as well.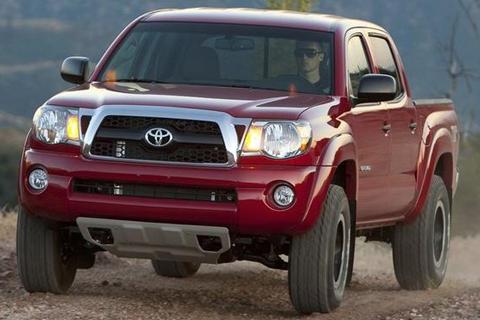 The good news for prospective car buyers, more specifically truck lovers, is that there is car that is not only easy to look at but gives good value for money as well. That, is the 2011 Toyota Tacoma.
The Tacoma is a midsize pickup truck that comes in a wide variety of body styles and trims: regular, access cab, double cab, and x-runner. All body styles can be purchased in either two or four wheel drive.
Benefits
Some of the benefits of getting the Toyota Tacoma include the following:
First, it received an overall "Good" safety rating from the Insurance Institute for Highway Safety, an independent, non-profit, scientific, and educational organization dedicated to reducing crashes on the nation's highways. Moreover, in government crash testing, the 2011 Tacoma was awarded a top five star rating for its protection of passengers in both side-impact and frontal crashes.
Second, the engine offers a good balance of power and fuel efficiency, not what you would normally expect from a midsized pickup truck. Consumers have an option of buying a Tacoma with either a four cylinder engine or a six cylinder engines. For buyers who are more concerned about the truck's power rather than its fuel efficiency, a 4.0 liter V6 engine is recommended. However, for drivers who do not plan on heavy hauling and prefer smoother rides, purchasing a Tacoma with a four-cylinder engine is recommended.
Third, it has an attractive exterior. Although many car experts agree that its design isn't as flashy or stylish as other midsized trucks produced by Toyota's competitors such as Nissan, Ford, and Dodge, it still has an impressive built and is definitely very easy on the eyes. In terms of space, double cabs have a choice of a five or six foot bed. Moreover, all beds come with a liner.

Fourth, the interior of the car is well finished and is made with high-quality materials. Buyers of the Tacoma have the option of purchasing a model with a six-disc CD player, and as well as a rear view camera. The seats of the car are comfortable and offer a generous amount of headroom and legroom.
Fifth, the 2011 Toyota Tacoma is extremely reliable with a reliability score of 6 out of 10. In addition to its wide-ranging line-up, every new Tacoma comes with a three year, 36,000 mile basic warranty.
Sixth, compared to other midsized pickups, the Tacoma is relatively more affordable with a price range estimated between $16,492 and $27,221.
In Conclusion
Having said all that, the Tacoma isn't without its faults. Many consumers and car experts alike have complained about its low seating positions, spongy brake pedal, and extremely loud V6 engine.
Although the 2011 Tacoma is far from perfect, it is an extremely ideal vehicle for pickup truck lovers and enthusiasts. In terms of practicality and utility, the truck is suited for people with construction, farming, and transportation jobs. Ranking number two out of seven compact pickup trucks, the Toyota Tacoma is a must have for anybody who is looking for a reliable, comfortable, and practical car that is visually appealing yet easy on the pocket.
The SuperCars Overall Rating = 62/100
What others say:
"Fuel economy is competitive and handling is secure. The 4.0-liter V6 provides strong performance and sounds polished. "Consumer Reports
"The 2011 Tacoma model line covers a wide range of needs in base form, especially if you're willing to add a few options, but two specialized models, the PreRunner and X-Runner, are focused for tough terrain and look the part."The Car Connection
"Tacoma is available with rear-wheel drive or 4-wheel drive that should not be left engaged on dry pavement but includes a low-range gear for off-roading. "Consumer Guide
"Unlike many crossovers and car-based truck variants, the Tacoma still delivers very truck-like ride and handling characteristics."KBB
"The 2011 Toyota Tacoma is a top choice in the midsize pickup segment thanks to its highly capable nature and wide array of configurations."Edmunds
Specifications
General Info

| | |
| --- | --- |
| Vehicle Type: Pickup Truck | Base Price: $ 16,365.00 |
| Fuel Tank Capacity: 21.1 gallons | Miles Per Gallon: 21 city / 25 hwy |
Dimensions

| | |
| --- | --- |
| Length: 190.4 in. (483cm) | Width: 72.2in. (183cm) |
| Height: 65.8 in. (167cm) | Weight: 3250 lbs (1474kgs) |
| Wheel Base: 109.6 in. (278cm) | Ground Clearance: 8.1 in. (20.5cm) unladen |
| Luggage Capacity: Max. Cargo Vol. 43.4 cu ft | Maximum Seating: 3 |
Performance

| | |
| --- | --- |
| Engine: 2.7 Liter DOHC 16 Valve 4 cylinder dual VVT-i | Displacement: N/A |
| Horsepower: 159vhp | Max RPM: 5200 rpm |
| Torque: 180 lb-ft @ 4000 rpm | Transmission: 5-speed Manual transmission |
| 0-60 mph: N/A | Max Towing Capacity: 3500 lbs (1578 kgs) |
Available Trims

| | |
| --- | --- |
| Option:Tacoma Access Cab PreRunner | MSRP: $21,315; MPG: 19 city / 25 hwy |
| Option:Tacoma Access Cab PreRunner V6 | MSRP: $22,750; MPG: 17 city / 21 hwy |
| Option:Tacoma Double Cab 4×2 4-cylinder Auto | MSRP: $21,865; MPG: 19 city / 25 hwy |
| Option:Tacoma Double Cab 4×4 V6 5 speed Auto | MSRP: $27,025; MPG: 16 city / 20 hwy |