Most consumers looking into purchasing a car for everyday use and would like something that is inexpensive with good features but boasts an excellent quality with regards to safety standards. Nissan will be launching the new 2012 Nissan Versa, which boasts of having the qualities that most consumers want in an automobile. It has a contemporary and chic design that Nissan incorporated with basic features such as a satellite radio, Bluetooth technology, USB interface and navigational system that comes with five inch touch screen. These are optional features which means you have to select a different trim of the Nissan Versa which is in contrast to other smart cars in the market.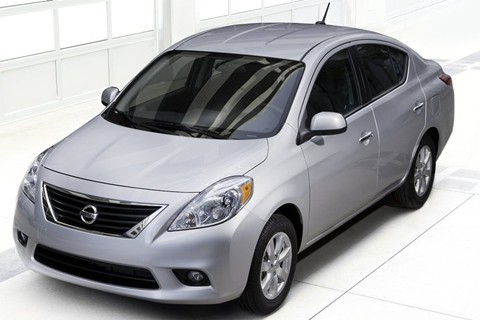 Specifications
General Info

| | |
| --- | --- |
| Vehicle Type: Hatchback | Base Price: $14,380.00 |
| Fuel Tank Capacity: 13.2 gallons (49.9 liters) | Miles Per Gallon: 26 city / 31 hwy |
Dimensions

| | |
| --- | --- |
| Length: 169.1 in. (429.5 cm) | Width: 66.7 in. (169 cm) |
| Height: 60.4 in. (153 cm) | Wheel Base: 102.4 in. (260 cm) |
| Curb Weight: 2693 lbs (1221 kg) | Ground Clearance: 6.3 in. (16 cm) |
| Luggage Capacity: 17.8 cu ft | Maximum Seating: 5 people |
Performance

| | |
| --- | --- |
| Engine: 16-valve DOHC inline-4 | Displacement: 1.8-liter |
| Horsepower: 122 HP | Max RPM: 5200 RPM |
| Torque: 127 lb-ft @ 4800 rpm | Transmission: 6-Speed Manual |
| 0-60 mph: 9.5 seconds | 1/4 Mile: NA |
Available Trims & Engine

| | |
| --- | --- |
| Option:S 1.6L Sedan | MSRP: $10,990; MPG: 26 city / 34 hwy |
| Option:SL 1.6L Sedan | MSRP: $15,560; MPG: 24 city / 32 hwy |
| Option:S Hatchback | MSRP: $15,380; MPG: 24 city / 32 hwy |
| Option:SL Hatchback | MSRP: $18,390; MPG: 28 city / 34 hwy |
Performance
With a closer look at the Nissan Versa 2012, here are the following specifications and see its strong and weak points as an automobile: First, the Versa has only a single option with regards to its engine which is a four cylinder, 1.6 litres with a 30/38 mpg city/highway performance that is quite impressive for a car of its size although it still falls short to the 40 mpg performance of the 2012 Hyundai Accent (MSRP $14,595; 30 city / 40 hwy) and Kia Rio. And in terms of the horsepower, it does not do any better than the preceding 2011 Versa model or in comparison to the 2012 Hyundai Accent.
Extras
This model also comes at three trim levels. The most basic is the 1.6 S then the second one is the 1.6 SV has additional cruise controls, chrome accented grills, power windows and side view mirrors with remote control. Additions such as the Convenience Package would add extra features such as the Bluetooth technology. While the best trim offers the best features, including those of the preceding trim it also has fifteen inch wheels and rear seat that are split fold down. Unfortunately, these packages would cost a lot more in comparison to the basic trim level.
Safety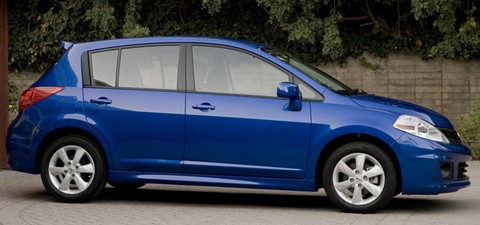 One strong point that the Nissan Versa has is that it has safety features in comparison to its predecessor the 2011 Versa. It also has more spacious interiors even matching up to the newest Sentra model. This will make the Versa quite an impressive model some even think it would be difficult to make distinction between the two Nissan models due to this advantage with the Versa model.
The Competition
Additions such as the aforementioned features are sure to require extra out of pocket. If cost is a consideration, you can also look at the competition such as the Chevrolet Cruze (MSRP $16,720; 26 city / 36 hwy) or Ford Fiesta (MSRP $15,500; 29 city / 37 hwy) which have extremely good safety standards and other impressive features.
In terms of the price range, it is considered as one of the most affordable cars in the market at present although with the addition of some special features to the basic model, one could be spending quite a lot and it would be much more advisable to just get another model or brand that has a slightly higher price range than the 2012 Versa.
Overall Rating


67 out of 100
What others say:
"Manual- and 4-speed-automatic transmission hatchbacks feel labored and weak on account of their additional curb weight (some 300 pounds compared to the sedan). Lots of shifting of the manual is required for maximum acceleration; an S model so equipped did 0-60 mph in 9.5 seconds."Consumer Guide
"The redesigned 2012 Nissan Versa would seem to meet expectations, but other subcompacts will likely be more enjoyable to drive and own."Edmunds
"More sophisticated sheet metal and improved fuel economy are the most important improvements on the all-new 2012 Nissan Versa Sedan."KBB