The 2011 Lexus RX 450h features only 1 trim in either front-wheel drive or optional all-wheel drive. The RX Hybrid was redesigned for the 2010 models so that it can be observed that there are only slight changes.
The Lexus RX Hybrid combines a luxurious interior with a power train that has finesse. This model also has superb fuel economy. Many have commented though that it is priced much higher side by side the gas-only RX yet reviewers say that despite the price, it is a one-of-a kind SUV.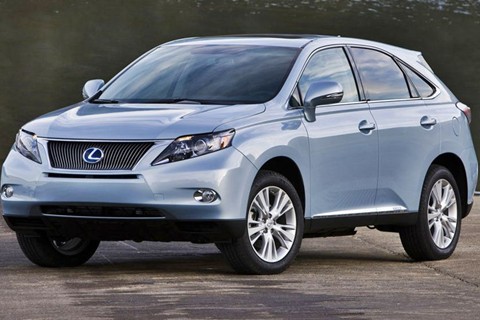 Specifications
General Info

| | |
| --- | --- |
| Vehicle Type: Hybrid SUV | Base Price: $44,735.00 |
| Fuel Tank Capacity: 17.2 gallons (65 liters) | Miles Per Gallon: 32 city / 28 hwy |
Dimensions

| | |
| --- | --- |
| Length: 187.8 in. (477 cm) | Width: 74.2 in. (188.5 cm) |
| Height: 67.7 in. (172 cm) | Wheel Base: 107.9 in. (274 cm) |
| Curb Weight: 4520 lbs (2050 kg) | Ground Clearance: 6.9 in. (17.5 cm) |
| Luggage Capacity: 40 cu ft | Maximum Seating: 5 people |
Performance

| | |
| --- | --- |
| Engine: 24-valve VVT-I Atkinson Cycle V6 | Displacement: 3.5-liters |
| Horsepower: 295 HP | Max RPM: 6000 RPM |
| Engine Type: Hybrid | Transmission: Continuously Variable-Speed Automatic |
| 0-60 mph: 7.4 seconds | 1/4 Mile: 16 seconds |
Available Trims & Engine

| | |
| --- | --- |
| Option:RX450h AWD | MSRP: $46,325; MPG: 30 city / 28 hwy |
Highlights
With this model, Lexus fused together hybrid and luxury. This is a highly satisfying combination for car lovers. If one goes for the RX hybrid one could get a first class and first rate technology interior that adds to it such smooth performance. The 450h is powered by a 24-valve 3.5 liter V6 atkinson cycle engine with an output of 295 hp. There is also the chance to experience excellent fuel economy for this model. You could have all of these features also when choosing the gas-only model of the Lexus 350.
The Lexus RX Hybrid however still has a better fuel economy compared to the RX 350. With the RX 350 it would take some time for gas savings to add up to extra cash that one has to produce in the dealership. Despite this higher price tag, there is still satisfaction knowing that you are able to drive a more eco-friendly vehicle. Add to this that all RX 450h owners would enjoy the standard benefits of an RX Lexus which include high class interior design plus a smooth and quiet cabin ride.
Interior
The Lexus RX 450h carries high-tech features in its cabin. Some of these are standard while others are optional. This is intended to please the technology enthusiast drivers. There is for instance a useful mouse-like electronic interface. Add to this the best of the best Mark Levinson sound system as well as LED headlamps.
The Lexus RX Hybrid use to be the only one in its class that is a hybrid. Today however, that is changing. The different luxury brands are also starting to produce hybrid SUVs. It is too soon to estimate if the reviewers would want the new one the way they like the Lexus hybrid. So, if you do not completely believe in the RX, it may be best to wait. However, current reviews already say that if you choose an RX 450h it will not be a disappointment. So, take your pick.
The Competition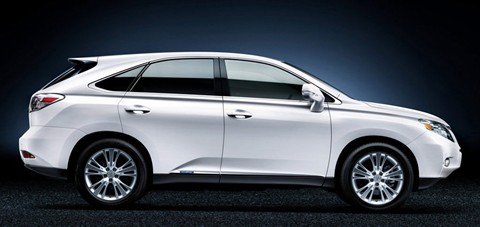 There are several SUVs in the market. The buyer may choose any other type than the Lexus RX 450H; however, they won't be able to feel the type of fuel efficiency that only this model can offer. If the car buyer however would want a Lexus but not a hybrid, then choose the Lexus 350. This will give the buyer a similar interior fitting but choosing this gas-only power train would yield substantial savings. And although the RX 350 isn't a hybrid, you can still expect the fuel economy to be among the best in its class.
For those not wanting for the smooth performance of a Lexus, there is always the BMW X5 as an alternative. The model only gives up 1mpg in city driving compared to the RX350. The BMW X5 (MSRP $47,200; 16 city / 23 hwy) though is slightly priced higher than an RX 450h. It also has interiors that are Prussian-styled. Its performance could however rival those other sports sedans in its class.
Pros
Excellent Fuel Economy
Luxurious Cabin
User-friendly High Technology Interface
Cons
Pricing
Exterior styling is not that distinctive
Overall Rating


81 out of 100
What others say:
"Beneath the hood, the 2011 RX 450h is completely different. Instead of a conventional V-6 engine, there's a 3.5-liter V-6 coupled to Toyota's Hybrid Synergy Drive, which includes two separate motors (a third on all-wheel-drive versions), a continuously variable transmission instead of a six-speed automatic, and a hefty battery pack under the second-row seat."Car Connection
"Though expensive, the 2011 Lexus RX 450h delivers on its promise of impressive fuel economy, utility, power and luxury."Edmunds
"The RX is one of the well-rounded upscale SUVs. It balances a refined powertrain and comfortable ride with well-planned details and a very quiet interior. The 3.5-liter V6 is strong. Cargo capacity is modest."MSN-Consumer Reports