Fiat is an Italian automobile icon. Owning other top notch brands such as Ferrari, it leads one of the biggest automotive conglomerates in the world. But before they got this far, they had been known for a car that represented the company with pride. This car is the Fiat 500. A small city car powered by a 500cc engine, it sold by the millions and is the most recognized Fiat ever.
Fast forward to the year 2007. Exactly 50 years since its first release, the Fiat 500 was re-introduced, and now it has hit other countries including the United States. So how good exactly is the 2012 Fiat 500?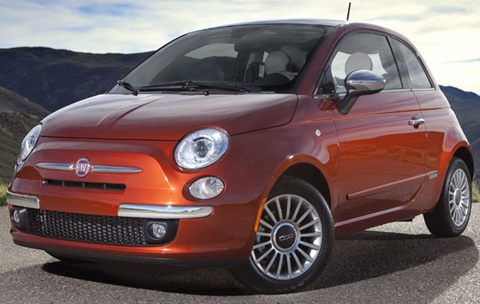 Exterior & Interior
Of course, one of its biggest selling points is its exterior. Just like the VW Beetle (MSRP $18,995; 22 city / 31 hwy) and the Mini Cooper (MSRP $19,400; 29 city / 37 hwy), the Fiat 500 manages to be modern and yet maintain its classic look and feel. From a mile away, you can distinguish the fiat 500. That's how strong its personality as a car is. In addition, there are a lot of ways in which you can customize its looks. Choose among 14 different colors and different graphics such as stripes to create your own individual style.
As for the interior, with a car as small as this, it is expected that it is going to have seriously cramped space. However, open the doors on this car and you will see space that belies its super shrunk exterior. It has interior space that is bigger than most similarly sized cars, and surprisingly, the rear seats are actually usable, albeit to a limited degree. The rear seat is best reserved for people less than 5 foot 6 inches in height, but the front seats are warmly received.
Visibility is great, though some drivers complain of some blind spots. Basic equipment includes power windows, heated windows, and a comprehensive audio system complete with an auxiliary jack. Upgrades include a premium audio package, sport seats, USB port, and a sunroof. As for storage, cargo space is limited to 9.5 cubic feet and this is increased to 30.5 cubic feet with the rear seats folded.
Performance
The 500 is equipped with a 1.4 liter 4 cylinder engine that has a maximum output of 101 horsepower. Now that doesn't sound quite a lot. But when you think about its light weight, you'll realize (especially when you drive it) that such power is just about right. There are 2 transmission options for this car, a 5 speed manual and an optional 6 speed automatic.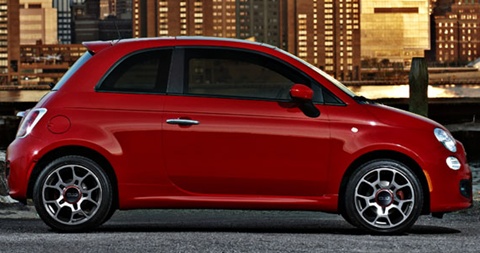 The estimated fuel economy for this car is rated at 30 to 38 miles per gallon for the manual and 27 to 34 for the automatic. Back to the light weight, it is primarily the reason why 2 of its strongest suits are braking and handling. The brakes are quite strong and snappy, and cornering, while hampered a little bit by a high ride height, is actually silky smooth partly due to its minimal size and mass.
Pros & Cons
There is a lot to like about the 2012 Fiat 500. This car is very fun to drive because of its excellent maneuverability. Also, for a car of its price, it is loaded with a lot of features. Of course, its looks are nothing short of legendary. As for weaknesses, its power output is considered to be on the weak side, struggling on highway runs. Fuel economy, while great, is pretty mediocre considering its size. And both cargo and rear seat space are largely compromised by its lack of size.
If you're looking for a city car that will satisfy your fix for a blast from the past, the 2012 Fiat 500 is going to be perfect for you. A perfect mix of an iconic shape, affordability, drivability, and fun factor, this car is going to be a welcome addition to your garage if you are looking for a city car.
Overall Rating


65 out of 100
What others say:
"Steering feel is solid, and body lean in fast turns is well controlled. The brakes have good pedal feel. Pop and Lounge models feel only slightly less athletic, and any 500 darts through urban congestion as easily as it tackles hilly switchbacks."Consumer Guide
"The retro-styled 500 has agile handling, a willing engine, and a crisp-shifting manual transmission, which all combine to make the Fiat fun to drive."MSN Auto-ConsumerReports
"Wait-and-see reliability; cramped front headroom with sunroof; disappointing fuel economy with automatic; less cargo room than rivals; convertible's poor top-down visibility."Edmunds
"More affordable than a Mini Cooper and more gregarious than a Toyota Yaris, the 2012 Fiat 500 offers a new mix of economy and style."KBB
Specifications
General Info

| | |
| --- | --- |
| Vehicle Type: Hatchback | Base Price: $15,500.00 |
| Fuel Tank Capacity: 10.5 gallons (39.7 liters) | MPG: 30 city / 38 hwy |
Dimensions

| | |
| --- | --- |
| Length: 139.6 in. (354.5 cm) | Width: 64.1 in. (162.8 cm) |
| Height: 59.8 in. (151.8 cm) | Wheel Base: 90.6 in. (230 cm) |
| Curb Weight: 2363 lbs (600 kg) | Ground Clearance: 4.1 in. (10.4 cm) |
| Luggage Capacity: 9.5 cu ft | Maximum Seating: 4 people |
Performance

| | |
| --- | --- |
| Engine: 1.4L SOHC Inline-4 | Displacement: 1368 cc |
| Horsepower: 101 HP | Max RPM: 6500 RPM |
| Torque: 98 lb-ft @ 4000 rpm | Transmission: 6-Speed Manual |
Available Trims & Engine

| | |
| --- | --- |
| Option:500 Sport | MSRP: $17,500; MPG: 30 city / 38 hwy |
| Option:500 Lounge | MSRP: $19,500; MPG: 30 city / 38 hwy |
| Option:500c Convertible Pop | MSRP: $19,500; MPG: 30 city / 38 hwy |
| Option:500c Convertible Lounge | MSRP: $23,500; MPG: 30 city / 38 hwy |
| Option:500 by Gucci | MSRP: $23,500; MPG: 30 city / 38 hwy |
| Option:500 Pink Ribbon | MSRP: $22,000; MPG: 30 city / 38 hwy |