The Chevrolet Corvette is the standard bearer of Chevy lineup ever since its inception in 1953. Considered as America's first true sports car, it is a legend in just about every definition that you would ask. This is the very reason why every iteration of the Corvette, expectations are always high. This is a review of the 2011 Chevrolet Corvette to see if this car really lives up to the hype.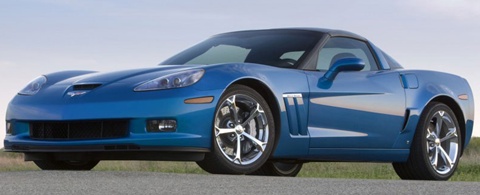 Exterior & Interior
Of course, one of the things that separate sports cars from the rest of the pack is its looks. And boy, this Corvette has a lot of it. It still has its trademark long nose and low stance that people have come to love since 1953. There are 2 types of bodies available in this car: coupe and convertible. In addition, the coupe can have an optional Targa top.
Still, the distinctive fixed headlights that have been incorporated for the sixth generation of the Corvettes (a first since 1962) are still there. And then, the optional Grand Sport package allows for the ZO6 body kit to be installed. As for the interior, there are mixed feelings about it. As usual, it is a 2 seater; but some find it hard to get in and out of this car. Another thing is that they find that the trim for this car is cheap for a car of its stature.
Sure, it's not the roomiest car in the world, but you don't exactly buy sports cars for those comfort. The gauges and controls are both clean and straightforward. And to top it off, the Corvette's trunk space of 22.4 cubic feet is a surprising yet very welcome characteristic.
Performance
Of course, you expect a car like the Corvette to shine on the performance department. And its host of mechanical equipment are considered top notch. Standard equipment for the base Corvette is a 6.2 liter V8 engine that is rated to produce 430 horsepower. That is a lot of power considering its price. It is combined with a six speed manual transmission; though an optional 6 speed gearbox with automatic function is also available.
This combination brings out performance that is going to shame even cars that have a much higher price tag. Acceleration time of zero to 100 kilometers per hour of 4.2 seconds is enough to beat most cars, as well as its quarter mile time of 12.6 seconds. Even better, the top speed is rated at over 300 kilometers per hour. In addition, the fuel mileage of this car is rated at 16 to 26 miles per gallon, good numbers for a borderline supercar but it is much better suited for cruising than city driving.

Its brakes provide consistent and controlled stopping power, adequate for a car of its capabilities. In addition, those that were able to drive this car applaud its incredible handling. And while this is very sharp on the track, it is very compliant on the road. This characteristic makes it great as a dual purpose vehicle. And if you want a more vicious car, the Corvette still has the more potent ZO6 package or even the wicked ZR1 trim.
The Competition
Names in the automobile industry that attract attention are always vying for attention against the Corvette. These include the Porsche 911 (MSRP $88,800; 17 city / 25 hwy), the Porsche Cayman (MSRP $51,400; 19 city / 27 hwy), and the BMW Z4 (MSRP $47,450; 18 city / 28 hwy). Note that these three have less horsepower than the Corvette and two cylinders short.
Pros & Cons
There are a lot of things to like about this version of the Corvette. It combines an iconic look with world beating performance. Combine track-ready performance with road-friendly manners, this could be the best 2-way supercar one can purchase at this price. On the downside, people are not satisfied with the relatively cheap assembly of the interior.
The 2011 Chevrolet Corvette lives up to the legend of being America's first true sports car. Its world beating performance, together with its impeccable style and quality, makes up for one truly spectacular car. If there's such a thing as a bargain supercar, this car is it.
Overall Rating


81 out of 100
What others say:
"The 2011 Chevrolet Corvette's interior is clearly an area of compromise, where cost savings help translate into more performance per dollar, but the optional leather upgrade package helps solve some of those ills."Car Connection
"Quick steering, tenacious smooth-road grip, and little cornering lean make Corvette, and particularly the ZR1, among the world's best-handling cars. In fast turns, the Z06, more than the ZR1, requires careful use of the throttle, or the rear end will fishtail. Big, powerful brakes provide short, stable stops."Consumer Guide
"The interior is roomy for a sports car."MSN Auto-ConsumerReports
"Not as agile as some of its competitors; old-fashioned interior; Z06 and ZR1 models lack styling distinction."Edmunds
"If you love your cars American and iconic, the 2011 Chevrolet Corvette is a sports car purist's dream come true."KBB
Specifications
General Info

| | |
| --- | --- |
| Vehicle Type: Coupe | Base Price: $49,045.00 |
| Fuel Tank Capacity: 18 gallons (68 liters) | MPG: 16 city / 26 hwy |
Dimensions

| | |
| --- | --- |
| Length: 174.6 in. (443 cm) | Width: 72.6 in. (184 cm) |
| Height: 49.1 in. (124 cm) | Wheel Base: 105.7 in. (268 cm) |
| Curb Weight: 3208 lbs (1455 kg) | Ground Clearance: NA |
| Luggage Capacity: 22.4 cu ft | Maximum Seating: 2 people |
Performance

| | |
| --- | --- |
| Engine: 6.2L 16 valve OHV V8 | Displacement: 378 cu in |
| Horsepower: 430 HP | Max RPM: 5900 RPM |
| Torque: 424 lb-ft @ 4600 rpm | Transmission: 6-Speed Manual |
| 0-60 mph: 4.1 seconds | Maximum Speed: NA |
Available Trims & Engine

| | |
| --- | --- |
| Option:Convertible | MSRP: $54,045; MPG: 16 city / 26 hwy |
| Option:Grand Sport Coupe | MSRP: $55,045; MPG: 16 city / 26 hwy |
| Option:Grand Sport Convertible | MSRP: $59,045; MPG: 16 city / 26 hwy |
| Option:Corvette Z06 7.0L V8 | MSRP: $74,375; MPG: 15 city / 24 hwy |