Casino Royale is the 2006 James Bond film starring Daniel Craig. It is the 21st film of the James Bond Series, based on the 1953 Ian Fleming novel of the same name. It was directed by Martin Campbell.
The movie takes place at the beginning of James Bond career as spy under the name Agent 007. He just earned his license to kill. After James Bond prevented a terrorist attack at the Miami International Airport, Bond falls in love with treasury agent Vesper Lynd just as he tries to foil a poker tournament by the Le Chiffre. The sequel to the movie, Quantum of Solace, was released in 2008.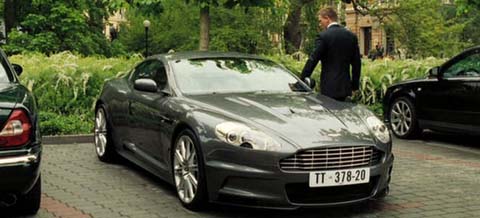 The Aston Martin was first seen in the 2006 Casino Royale film. James Bond drives an Aston Martin DBS V12 sports car in the Casino Royale movie. The state of the art high performance sports car was produced by UK car manufacturer Aston Martin. The DBS V12 was officially unveiled at Pebble Beach Concours d'Elegance on August 16, 2007. It featured graphite gray with blue tint, to which he got the nickname 'Casino Ice'. The car was produced in Gaydon Warwickshire and the engine was built in an engine plant in Cologne, Germany.
Aston Martin DBS V12 Rollover Crash