German tuner PP Exclusive decided to start a new project based on the Mercedes-Benz SL R230, and in 2012 it has come up with a majestic looking vehicle.
PP Exclusive has incorporated a number of new features and designs to give the vehicle a whole new look and feel.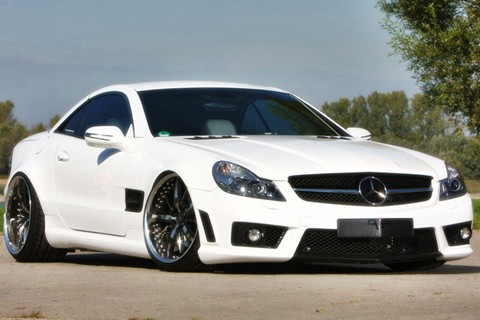 Modifications
The Mercedes-Benz SL R230 has been fitted with an electronic module, which has lowered the suspension by around 100 mm, that gives the car a truly ruthless wedge-like form. The steering wheel is adjusted to lower the height. The wheel arches have been stretched with extra sheet metal embedded onto the existing arches to expand them by 25 mm in the front and 55 mm in the rear.
Exhaust
In order to achieve a loud, rich and nice sound from back end of the vehicle, the exhaust system is entirely built with stainless steel staring from the catalytic converter, to four oval shaped exhaust pipes.
Fitted with the stainless steel exhaust system, the Mercedes-Benz SL R230, is wrapped in 255/30 and 305/25 Dunlop tires. It sports 11 x 20 inch front wheels and gigantic 13 x 20 inch rear wheels have been used. But one can easily select the tire up to 23 inches in size.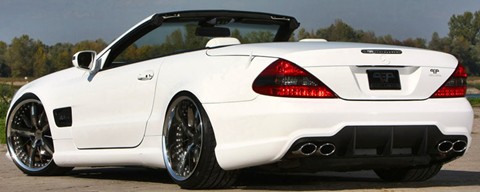 Interior
PP Exclusive did not stop here instead they have done a lot of work with the interior design. It has been restyled with the help of white Nappa leather with dark embroidery for the seats, wood inserts with matching color on the dashboard, and black Alcantara for the roof.
The steering wheel now has a compact rim and formed straight unlike the earlier curved bottom shape. This has given the vehicle a new look and feel from the inside.
In a nutshell, with the Mercedes-Benz SL R230, PP Exclusive has presented the seamless illustration of excellent deep and wide car tuning work, retaining the classic standards and qualities of tuning at the same time.