The Mercedes Benz SLS is one amazing car. Designed as a tribute to the legendary 300SL supercars of the 1950s, they are every bit as spectacular. Featuring distinct style and world beating performance, this is a sports car that just about anyone can relate to. So when Kicherer decides to tune the SLS and tells that the experience of driving their version of the SLS as "only flying is more exciting", you can bet that they are in for something bold. Introducing, the 2011 Kicherer Mercedes Benz SLS Roadster Supersport GTR.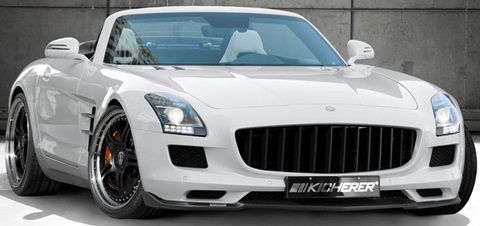 Chassis & Exterior
As the word roadster is used, the car used as a base for this car is the SLS convertible. However, its looks are extensively modified by a body kit customized by Kicherer. What's more, those parts, including spoilers and side skirts, are made out of high quality carbon fiber. Classic 20 inch lightweight wheels that feature a double spoke design that complements the SLS's retro styling perfectly. Coil-over suspension provide proper handling and style for this car, and it features a "front up" feature that allows it to avoid hitting speed bumps and ramps.
Engine Performance
There are 2 performance upgrades that prospective owners can choose, with both options an upgrade to the stock SLS's already imposing 560 horsepower. The first package, incorporating a Kicherer air filter, has a maximum output of 620 horsepower. The second package, adding a new exhaust manifold and a modified catalytic converter, allows a maximum output of 640 horsepower.
A potent combination of style and performance, the Kicherer Mercedes Benz SLS Roadster Supersport GTR stands out from its competition. Perhaps, it is true that driving this car is indeed so exciting that only flying is more exciting than it.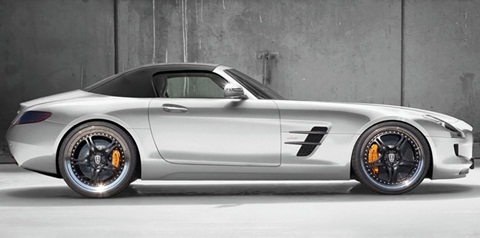 Specifications
Performance

| | |
| --- | --- |
| Engine: V8 DOHC | Displacement: 6.2 Liter |
| Horsepower: 641 HP | Torque: 637 lb-ft |
| 0-60 mph: 3.5 seconds | Maximum Speed: 199 mph (320 km/h) |