The 2009 Mercedes-Benz C-Class Special Edition comes with a high quality design, sporty and interior features that draw everyone's attention. It is also available as an estate and as a saloon with the same C-Class engine.
It is also the most advanced and technically built car that makes use of Blue Efficiency, Adaptive Brake and Agility Control. It also makes use of active light function, bi-xenon headlamps and dynamic headlamps that ensures a better visibility on the fog covered roads. The Parktronic system with optical distance warning is another highlight.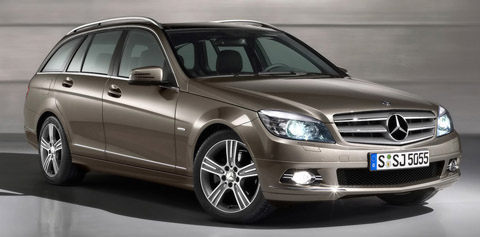 The car features specially designed suspension that allows the height of the car to be adjusted depending upon the driving and road conditions. The car stands on lightweight 17-inch alloy wheels with five spokes and covered with 235/60 R 17 tires on the front and 255/55 R 17 tires on the rear.
The car employs an environmental friendly 4.0 L diesel engine with newly designed exhaust system and camshafts. The engine delivers high amount of torque and output power. Also it delivers less emissions, sound and vibrations.
The interiors are done in leather and it features leather wrapped steering wheel and folded seats, 4.5 inch display, floor mats, instrument panels and air conditioning system.