The Mercedes-Benz 300 SL, well known for its revolutionary "Gullwing" doors, made an appearance in a new avatar at Geneva. Mercedes-Benz had sprung a surprise by unveiling a new high performance, open top sports car.
It featured a front end which had vertical headlamp lenses. Among its improved features from its predecessor, the 300 SL Gullwing Coupe, was a redesigned running gear and a newly designed space frame. This made access easier. The doors were hinged in front. These new design features enabled the 300 SL to be equipped with an easy to open soft top roof.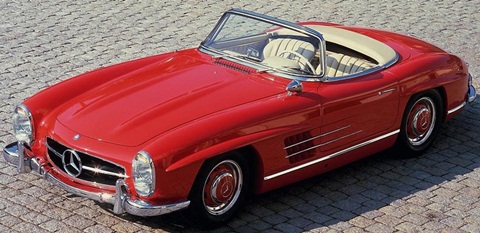 Performance
The new roadster was based on a prototype from the year 1953. After suitable modifications, the engineers at Mercedes-Benz came up with the new 300 SL roadster. It featured a three liter, six cylinder in-line engine which used direct injection of gasoline and this innovative design boosted its power output from 175 hp to 215 hp.
Though the cut down doors proved good for racing, the W 198 II was mounted with conventional front hinged doors. Additional tubing was added to maintain rigidity of the space cage and adds35 kgs to its weight. The new hardtop version meant the addition of weight and consequently the top speed dropped from 161.5 mph to 155 mph. In spite of this the 300 SL was an ideal car for daily use.
Added Features
Many technical improvements were incorporated in the 300 SL roadster. It was equipped with a low pivot, single joint, and swing axel on the rear end. This improved the car's steering. To improve breaking efficiency, the roadster was fitted with Dunlop disk brakes on front and rear wheels.
The modified light alloy engine block further improved on-road performance. To stay dry in bad weather, Mercedes-Benz equipped the 300 SL with a soft top which was stowed behind the seats. A hardtop version came along later.

Though some fans were unhappy with the changed appearance, the majority liked the new look and performance of the 300 SL roadster and in due course it achieved iconic status.