The Mercedes Benz 300 SL Gullwing was launched in February 1954 at the New York International Auto Show.
The Mercedes 300 SL Gullwing, internally known as W198 at Daimler-Benz, was the commercial version of the competition-only sports car of 1952, the carbureted Mercedes 300SL (W194).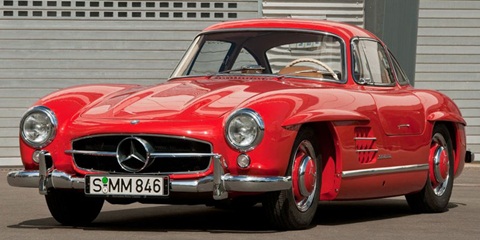 Stylish Design
The 300 SL Gullwing was a two seater sports car with the unique gull-wing shaped doors. At the time of its launch, the 300 SL Gullwing was the fastest production car till that date. The 300SL was designed with the objective of minimizing the aerodynamic drag and thus making it light and nimble. It was built around a tubular chassis, design limitation of which led to innovation of upward swinging door, which became the hallmark of the car.
The tubular metal skeleton helped in cutting down weight while maintaining high level of strength. Car body was primarily steel, but Aluminum was used in hood, doors and trunk lids to reduce the weight. Customer had the option to order the car in an All-Aluminum body, which was 80kgs lighter. The well sculpted design of the car was ground breaking and the characteristic Gullwing doors were a crowd puller.
Performance
The 300 SL Gullwing was powered by a 212 hp 3 liter straight-6 engine. This was the first ever 4 stroke gasoline engine with direct fuel injection system. The direct injection nearly doubled the power of the original carbureted version which produced around 115hp.
This innovative fuel injection meant that the car was fastest production car in the world then, with top speed of 260 km/h or 161 mph. The car achieved 0 to 100 km/h (0 to 60 mph) in about 10 seconds.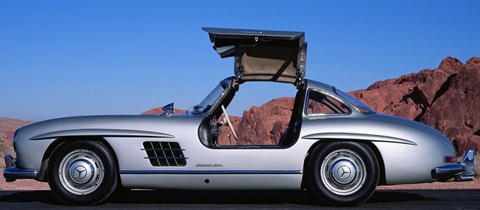 A total of 1400 Gullwings were a produced between 1955 and 1957 and 80% of these were sold in the United States. The 300 SL Gullwing is still revered as one of the classic automobiles of the 20th century and is still a sought after vehicle.
The stunning design of the car is ageless and the spirit of the same can be seen in the new age Mercedes-Benz SLS AMG.