As a car maker, Lamborghini has made a name for itself for its extreme cars that never holds back in pursuit of maximum performance. They always turn out with finely crafted vehicles that are distinctively theirs, may it be on production models or with prototypes. While it's the production models that get all the accolades, the prototypes are just as desirable, if not more. One prototype that has just been released is the 2011 Lamborghini Sesto Elemento Concept.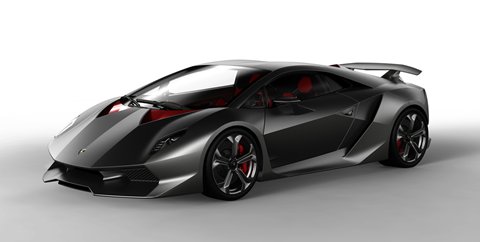 Specifications
General Info

| | |
| --- | --- |
| Vehicle Type: Supercar | Est. Price: $2,500,000.00 |
Performance

| | |
| --- | --- |
| Engine: V10 | Horsepower: 570 HP |
| Transmission: 6-Speed e-gear | Maximum Seating: 2 people |
| 0-60 mph: 2.5 seconds | Maximum Speed: 186 mph |
Performance
It is equipped with a V10 engine that is capable of producing 570 horsepower. Now that may not sound much, but if you'll consider the weight of this car, it is more than enough to produce unprecedented speed. It goes from zero-to-100 kilometers (62 mph) per hour pegged at 2.5 seconds and a top speed of over 180 miles an hour; this is a supercar in every sense of the word. The full time 4 wheel drive system ensures superb traction and stability even at high speeds. All these components, coupled with the light weight, make this car handle nimbly, accelerate viciously, and brake with conviction.
Chassis
Sesto Elemento sounds like a very radical name. When exploring this car, you will realize that this name is appropriate. Sesto Elemento roughly translates into sixth element, which if you'll look into the periodic table, it is carbon. When you look at the credentials of this concept, you'll realize that it is aptly named. Lamborghini named this car because it is predominantly constructed out of carbon fiber. In fact, this car probably possesses the most technologically advanced carbon fiber structure around.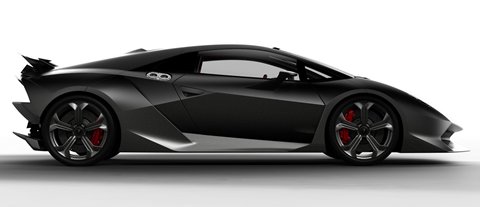 Using the technological expertise of Lamborghini in carbon fiber technology, this car is the product of Lamborghini's mastery of the complete carbon fiber reinforced plastic (CFRP) process. From simulation, validation, production, and testing, all these are covered using their state of the art process that turns out high quality products.
The monocoque chassis of the Lamborghini Sesto Elemento Concept is made of carbon fiber, as well as the front frame, wheels, body panels, suspension components, and propeller shaft, just to name a few. This adds up to create an extremely light weight vehicle at 2200 pounds, a ridiculous number considering that cars seem to weigh more and more every year.
It has been confirmed that the 2011 Lamborghini Sesto Elemento Concept will make it into production as a made to order product. In fact, only 5 or 10 models are scheduled to be built, with a price tag of 2.5 million Euros. Unbelievably exclusive, but worth the price tag. This is no ordinary car, even under Lamborghini standards. It is an automotive showcase of epic proportions. Its performance, style, and exclusivity are off the charts, and just might be the sign of Lamborghini's future.