Lamborghini's lightweight engineering approach produces a lighter version of the Gallardo LP 560-4 Spyder and with much power: the 2011 Lamborghini Gallardo LP 570-4 Spyder Performante.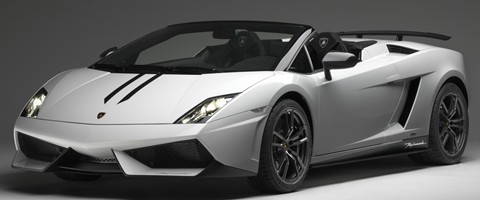 Spyder Performante is an open-top, two-seater sports car weighing only 3274 lbs but with a 570hp at 8 000 revs per minute with a top speed of 201mph.
The Lamborghini endeavor to lose the extra weight without sacrificing quality, and as such, electric windows and air-conditioning unit comes as customary in the Spyder Performante. The weight reduction is thanks to CFRP technology; components of the car's interior and exterior are made with carbon-composite material called carbon-fiber. All in all, you have 40% of the total weight reduced by the use of carbon-filter components.
Carbon-fiber is ideal for sports car not only because of its light weight but also because it improves technical characteristics. With the weight being reduced the car's performance is optimized while CO2 emission is lessened.