In the year 2009, Lamborghini, an Italian Sports Cars manufacturer has launched the limited version of Murcielago LP650-4 Roadster, where 50 units would be available.
Exterior features
The exterior is provided with a Grigio Telesto which merges with the body work along with orange Arancio that is located on the sills and front spoiler. The LP 650-4 logo is displayed on the exterior of the car, which shows the power of the car. The car also contains a transparent V12 engine cover, which is being displayed at the back of the driver and orange brake calipers.
Interior features
The interior features of the car mainly display in orange and grey exteriors, next to these are the orange touches. The dash designs are asymmetric with black Alcantara close to the driver's seat.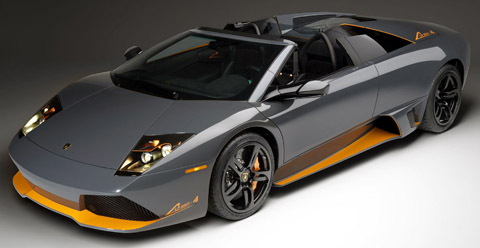 Specifications
Vehicle Type: - production car, with two doors
Configuration: - Mid Engine/ AWD
Displacement: - 6496 cc
Engine: - V12
Torque: - 487 lb-ft@ --- rpm
Horsepower: - 650 bhp @ --rpm
Transmission: - 6-speed Manual
0-62 mph: - 3.3 sec
Wheelbase: - 104.9 in
Top speed: - 205 mph