The new Lamborghini LP560-4 is a super sports car which has been displayed at the 2009 Detroit Auto Show.
Unique color and design
The LP560-4 is designed in a unique matt blue, powerful and matt luster finish which makes the car to look more dynamic and powerful. Besides these colors, there are three more colors, matt luster black, matt brown finish and matt white. Lamborghini Ad Personam gives a choice to the customers to choose their own color.
The LP560-4 contains a V10 engine which produces an output power of about 552 bhp and 398 lb-ft which gives a high performance driving experience. The car attains a top speed of 202 mph and reaches 0-60 mph in just 3.4 sec.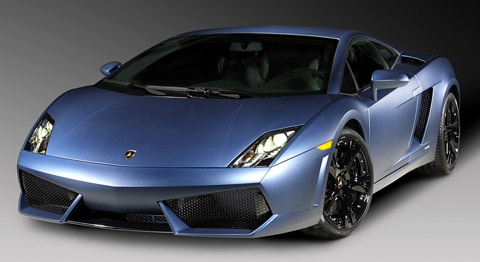 The interiors of the car are finely designed where most of the color is black and fine diamond stitching is applied to the exterior paintwork, this diamond pattern is applied to the door trim, headliner, seats and steering wheel. Also the seats, door trim cockpit, pillars and headliners are designed with fine Nappa leather, one of the best qualities in leather, these leather accessories add a sporty look to the LP560-4. The wheels are painted in gloss black which is contrast to the matte blue. The hand brake is done in a carbon fiber finish and the brake calipers are done in silver and yellow colors.
Specifications
Vehicle Type: -Production car with two doors
Fuel Mileage: -11/23 mpg
Configuration: - Mid Engine/ AWD
Engine: - V10
Displacement: - 5204 cc
Torque: - 398 lb-ft @ 6500 rpm
Horsepower: - 552 bhp @ 8000 rpm
Transmission: - 6-speed Manual/E-gear
Weight: - 3310 lbs
Height: - 45.9
Width: - 74.8
0-60 mph: - 3.4 sec
Top speed: - 202mph