Lamborghini has a history of manufacturing unique sports cars with a number of cars over the years. It comes out with a new Lamborghini Gallardo LP 550-2 Valentino Balboni for the year 2009 and it is also considered as a successful model in a Gallardo. It is a special edition car where only 250 units would be manufactured.
The Valentino Balboni is powered by a 5.2 L V10 engine that produces extreme power and gives a good driving experience. It is a light weight engine with exhaust systems and the engine releases an output power of 550 hp. The Valentino Balboni attains the speed of 62 mph in just 3.9 seconds with a top speed of 199 mph.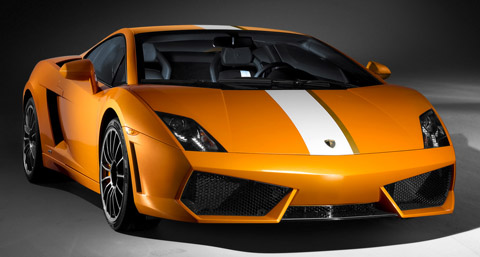 The Valentino Balboni is a rear wheel drive and it features independent suspension system. The suspension system features stabilizers, dampers and springs. The car features lightweight alloy wheels covered with specially designed tyres. The wheels feature carbon ceramic disc brakes with rotors and piston calipers.
The Valentino Balboni comes out in eight different colors with white stripes starting from the front panel to the rear spoiler. The exteriors comprise of Lamborghini badge, side windows and mirrors. The interiors are completely finished in leather. The interiors consist of leather seats, transparent engine cover, navigation system, rear view camera and Bluetooth.
Specifications
Vehicle Type: - 2-door coupe
Configuration: - Front Engine
Engine: - 5.2 L V10
Horsepower: - 550 bhp
Weight: - 3042 lbs
0-60 mph: - 3.9 sec
Top speed: - 199 mph