A Lamborghini like no other around: a four-door sports car that sticks solemnly to its creed. The Lamborghini Estoque concept has everything that is specified to be one: extreme, uncompromising and unmistakably Italian, it can bring a whole new versatility to the brand's DNA – with its four seats and ample luggage space.
The Lamborghini Estoque is a study, a concept created for the 2008 Salon Automobiles in Paris. The Lamborghini has established its throne in a new catergory of super sports sedans. Equipped with a powerful front mid-engine, permanent all-wheel drive and a sophisticated, precision-tuned chassis, the Lamborghini Estoque boasts its unique technology package.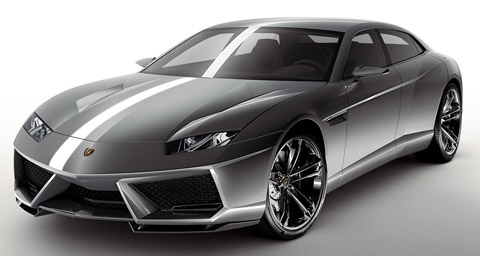 The front end of a Lamborghini Estoque is a clear and unambiguous statement of its sports car credentials. Its place among the line of Lamborghini super sports cars is distinct and unquestionable – seen with its swooping V-shape, its two large air intakes pulled forward and in between.