The Koenigsegg CCX in essence is an updated version of the successful CC/CCR models. The main aim of developing this car, according to Swedish auto maker Koenigsegg, is to allow their company to penetrate the world market, particularly the United States. The CCX, which first appeared during the 2006 Geneva Motor Show, is so named because this is an acronym that stands for Competition Coupe X, with the X marking the 10 years since the first CC car was developed in 1996.But the X could have stood for another word: extreme.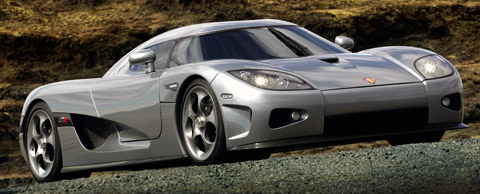 So what are the modifications made for the CCX? It is essentially the CCR with a lot of modifications made. The front bumper was made to comply with low speed collisions rules, and to be able to comply with rear impact rules, the body was lengthened by 88 millimeters. Additional headroom of 2 inches is also incorporated in order to fit larger people in the car. And perhaps most importantly, Koenigsegg has designed a new engine in order to meet emissions standards and to make it capable of running on octane 91 fuel.
Performance
First, the aerodynamically contoured CCX is constructed out of carbon fiber and Kevlar. This structure contributes to its light curb weight. And just how aerodynamic this car is? The drag coefficient for the CCX was rated at 0.30, a phenomenally low figure. Its design, together with its set of diffusers, spoilers, and vortex generators, is known to generate some serious down force; 60 kilograms on the front and 65 kilograms on the rear at 120 miles per hour. The wheels used for this car are made from magnesium alloy, though it can be upgraded to a carbon/magnesium composite wheel that is lighter by 3 kilograms compared to the standard wheels. Providing the stopping power is 14.3 inch disc brakes located at all 4 wheels.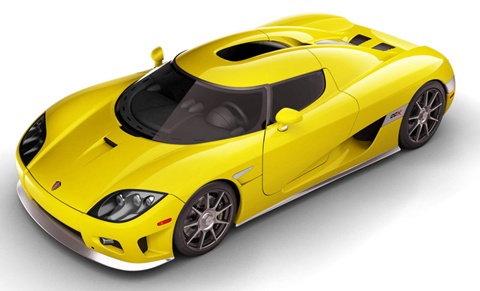 The engine on this car is a V8 engine similar to the Ford Modular engines that they have used in the CC and CCR. But it was thoroughly modified to the point that it can be considered a brand new engine in itself. Featuring a lighter yet stronger heat treated aluminum engine block; it is equipped with 2 superchargers that are capable of creating boost of up to 17.5 psi. The output is rated at 806 horsepower while using 91 octane gasoline. This engine is mated with a 6 speed dual clutch manual transmission designed by Cima, though a sequential manual is optional equipment.


More
The performance numbers of the Koenigsegg CCX simply cannot be denied. Acceleration numbers of zero-to-100 kilometers per hour at 3.2 seconds and zero-to-200 kilometers per hour at 9.8 seconds indicates that this car is a force to be reckoned with. And a zero-to-300-to-zero time of 29.2 seconds (done by Sport Auto) is a record holder. And in 2007, it held the record for the fastest lap time recorded in the TV show Top Gear, clocking in at 1:17.6 seconds.
There is no doubt that the Koenigsegg CCX is one extreme car. Achieving numbers most cars can only dream of, it is a creation that is built to achieve extreme speed.
Specifications
General Info

| | |
| --- | --- |
| Vehicle Type: Super Sport Coupe | Base Price: $540,000.00 |
Dimensions

| | |
| --- | --- |
| Length: 169 in. (429 cm) | Width: 78.6 in. (199 cm) |
| Height: 44.1 in. (112 cm) | Wheel Base: 104.7 in. (266 cm) |
| Dry Weight: 2821 lbs (1280 kg) | Ground Clearance: 3.94 in. (10 cm) |
| Luggage Capacity: 4.2 cu ft | Maximum Seating: 2 people |
Performance

| | |
| --- | --- |
| Engine: 32-valve DOHC V8 | Displacement: 4700 cc |
| Horsepower: 806 HP | Max RPM: 7000 RPM |
| Torque: 693 lb-ft @ 5500 rpm | Transmission: 6-Speed Manual |
| 0-60 mph: 3.2 seconds | Maximum Speed: 245 mph (395 km/h) |
Koenigsegg CCX Render

Koenigsegg CCX vs Ferrari 430 Scuderia: 50-300km/h rolling start from 50 km/h (25 mph) to 300 km/h (188 mph).

Koenigsegg CCX Overview

Koenigsegg CCX Test Drive