The Jaguar XK140 is a sports car manufactured by Jaguar Cars between the years 1954-1957.
The Jaguar XK140 is an upgraded model over its predecessor the Jaguar XK120. The upgraded features included the rack and pinion steering, tube type shock absorbers and modern braking system. The same Jaguar XK engine was used in this car, which was also used in the Jaguar XK120. The engine delivers an additional 10 hp and up to 190bhp compared to theXK120.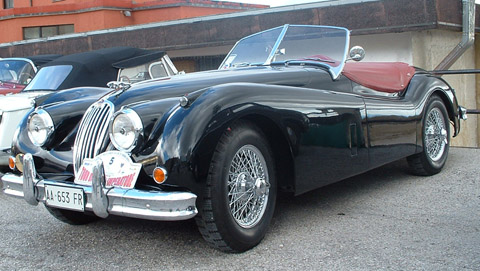 Photo by:
Ekki01
,
Creative Commons
In the 1955 models, the major change was the front and rear bumpers, flashing direction indicators which is being operated by a switch. The front grill is the same, which is used in the XK120. On the top of the grill, there is the Jaguar mascot and also a chrome strip. The chrome strip contains a red shield where the words "Winner Le Mans 1951-53" have been inscribed in gold.
The 1956 model of the Jaguar XK140 was the first where automatic transmission has been employed. The Jaguar XK140 has been launched in three different body styles; the Roadster which is an open two-seater, where the top of the car can be closed or opened within a few seconds. The interiors are completely made of leather; curtains are made of plastic and the canvas can be removed.
Specifications
Years Produced: 1954-1957
Model: Roadster
Body Type: Steel body
Length: 14ft 4.5in
Width: 5ft 4.5in
Engine: dual overhead-cam 3.4 L straight-6 XK engine
Displacement: 3442cc
Horsepower: 190 bhp @ 5500 rpm
Brakes: drum
Transmission: 4-speed Automatic
0-60 mph: 9 sec
Top speed: 121 mph