Lately, American cars have fallen by the wayside due to the collapse of former automobile heavyweights General Motors and Chrysler. However, GeigerCars has taken matters into its own hands by customizing and converting the Hummer H2 and has come up with the inspired 2009 GeigerCars Hummer H2 Latte Macciatto.
Like the popular drink it was named after, the Hummer H2 Latte Macciatto has noble brown as its base color combined with crème-beige contrast elements. Following GeigerCars' custom, the 2009 GeigerCars Hummer H2 Latte Macciatto's motor has been fitted with a supercharger. Because of this, the Latte Macciatto's power gets increased to a mind-blowing 547 PS at 5,900 rpm, while its torque goes up to a staggering 763 Nm at 4,500 rpm. This enables the vehicle to move from 0 to 100 km/h in a little less than 7 seconds.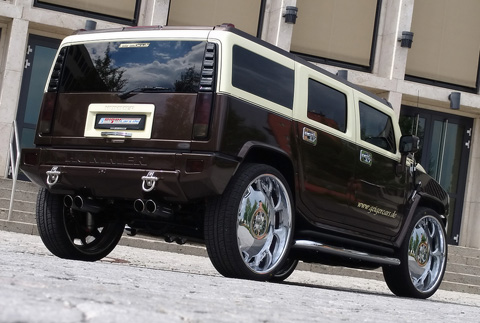 As though the Latte Macciatto's exterior isn't enough to turn heads, the inside has been outfitted in gorgeous brown and crème-beige leather. The door panels, central console, dashboard, and steering wheel also all follow the Latte Macciatto's distinctive brown-and- crème-beige combination.