The 2012 GTA Spano is a high-performance sports car with a rear-mounted, 8.3-liter, V10 engine that can produce 820 horsepower and 708 lbs-ft of torque and gives it a top speed of over 217 mph.
The car is built on a chassis for which GTA filed several new patents. Structurally, the car is built using a combination of carbon fiber, Kevlar and titanium, giving the car super strength but keeping it very light.
The combination of the lightweight construction and powerful engine means this car is one of the fastest accelerators in the world, reaching 62 mph in just 2.9 seconds from a standing start.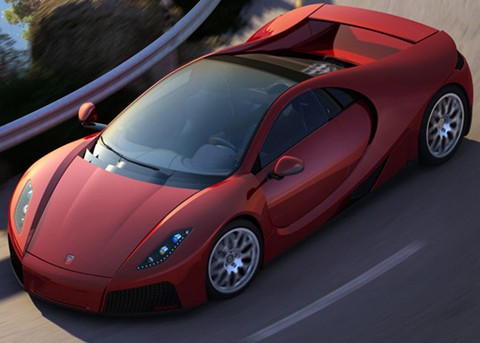 Interior
The interior design is aimed at combining a luxury appearance with sporting appeal. Extensive use of leather and carbon fiber finishes demonstrate classic luxury features combined with ultra-modern components.
The leather-covered seats are electrically adjustable and have built-in hot and cold temperature control. The steering wheel, which is also leather-covered, is constructed from carbon fiber. Lights, wipers and turn signals are controlled from a single stick mounted behind the steering wheel.
Console
There is a 7" LCD screen mounted in the dashboard that functions as the control center for many of the features supplied with the car, including the navigation system, entertainment and connectivity. There is no rear-view mirror on the Spano. Instead, images from a rear-mounted camera are projected on to the LCD screen.

Extra Features
As you would expect, a high specification car like the GTA Spano is fully loaded with the latest technology equipment. Fitted as standard are a radio, CD and MP3 player. The car has an iPod connector and is Bluetooth compatible, allowing access to phone functions via the car's LCD options.
There are two trunks, one at the rear and the other at the front. To make loading easier, the front trunk has a reverse opening function.
Windows and central locking are electrically controlled, as are the sun visors and the hand brake. The 2012 GTA Spano is also supplied with an anti-theft system and a GPS tracking system.
Specifications
General Info

| | |
| --- | --- |
| Vehicle Type: Super Sport Coupe | Est. Market Price: NA |
| Fuel Tank Capacity: 26.4 gallons (100 liters) | MPG: NA |
Dimensions

| | |
| --- | --- |
| Length: 181.1 in. (460 cm) | Wheelbase: 110.2 in. (280 cm) |
| Height: 46.5 in. (118 cm) | Width: 77.9 in. (198 cm) |
| Curb Weight: 2976 lbs (1350 kg) | Ground Clearance: NA |
| Luggage Capacity: 3.5 cu ft (front)/7 cu ft (rear) | Maximum Seating: 2 |
Performance

| | |
| --- | --- |
| Engine: GTA Supercharged V10 | Displacement: 8.3 liters |
| Horsepower: 820 HP | Max RPM: 6300 RPM |
| Torque: 708 lb-ft | Transmission: 7-Speed Automatic |
| 0-60 mph: 2.9 seconds | Top Speed: 217 mph (350 km/h) |