The 2012 Fisker Karma is a hybrid that looks like a coupe but is also a 4-door sedan that boasts of range-extending engines and motors.
This car offers a one of a kind package of high profile style and design.
It is also the first American engineered vehicle that is intended and developed to appeal to the world market.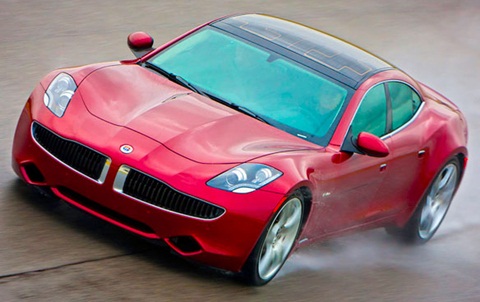 Specifications
General Info

| | |
| --- | --- |
| Vehicle Type: Coupe/Sedan Hybrid | Est. Market Price: $102,000.00 |
| Fuel Tank Capacity: 9.0 gallons (35.7l) | Total Range: 300 miles |
Dimensions

| | |
| --- | --- |
| Length: 196.8 in. (499.8 cm) | Wheelbase: 124.4 in. (316 cm) |
| Height: 52.4 in. (133 cm) | Width: 84 in. (213.3 cm) |
| Curb Weight: 5300 lbs (2404 kg) | Ground Clearance: NA |
| Luggage Capacity: 6.9 cu ft | Maximum Seating: 4 |
Performance

| | |
| --- | --- |
| Engine: Inline 4 Hybrid Turbo | Displacement: 2.0 Liter |
| Horsepower: 403 HP | Electric Motors Torque: 959 lb-ft |
| Battery Capacity: 20.1 kWh | Battery Voltage: 336 V nominal |
| Solar Roof: Full Length for Ext Range | Transmission: Single Ratio |
| 0-60 mph: 5.9 seconds | Top Speed: 125 mph (201 km/h) |
Engine & Performance
The Karma uses two 201.5 horsepower electric motors to drive the rear wheels, drawing the energy from a lithium-ion battery pack for up to 80 kilometers. The gasoline powertrain drives a 175 kilowatt electric generator, providing the power to the motors.
Amazingly, this vehicle can run on either of the two available drive modes: sport or stealth. When the Stealth mode is engaged, the car can accelerate from 0-60 mph in 7.9 seconds reaching a maximum speed of 95 mph. On the other hand, when the Sport mode is employed; the gasoline powertrain drives the generator providing sufficient electricity for 403 horsepower. With this, the Karma is able to splint from 0 to 60mph in 5.9 seconds achieving a maximum speed of 125 mph.
Generally, this car can run solely on electric power for up to 50 miles; after which, the 2.0 liter direct-injection turbocharged powertrain extends the range to an extra 250 miles. This implies that the total range between recharge and refuel is 300 miles.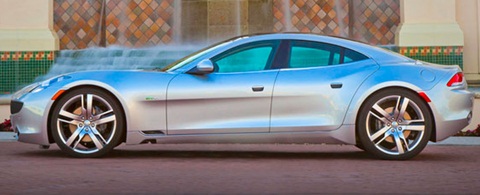 Exterior
The exterior design of the 2012 Karma is striking and elegant. The design conveys an athletic presence highlighted by a short deck, long hood, pronounced fenders, wide stance, low roofline and standard 22 inch wheels.
Interior
The interior is made of unique components, meant to sustain and account for Fisker's design philosophy. The interior is made of recycled and reusable materials; such as a wood trim from reclaimed lumber, seating foam from soy-based fiber, while the carpet backing is created from recycled post-consumer resources.
The interior environment has a tint rich shade of Black Onyx Monotone that mimics pure grain leather. At the top, there is a solar glass roof, which harnesses energy from the sun to extend the driving range for up to an extra 200 miles per year. At the command center, there is a touch screen interface designed to host premium audio, navigation, Bluetooth, iPod and climate control systems.
Safety
The 2012 Fisker Karma also comes with standard safety equipment that guarantee the safety of driver and the passengers. Among these safety features are: traction and stability control, dual knee airbags, side curtain airbags, front seat side airbags and antilock disc brakes.