Ferrari cars have always been one of the most coveted cars by many enthusiasts. When the company decided to develop the Enzo, there was a rave about what it will be like and how much it can offer to customers.
The Ferrari Enzo, a 650 horsepower super car named after its founder, was developed in 2002 using Formula One technology.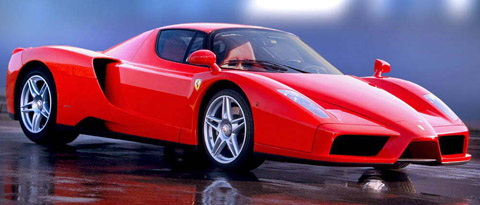 With the car already using carbon fiber for its body and an electro-hydraulic F1 transmission, more innovations were even made that were not present in the F1 such as aerodynamics and active traction control. Its ultra-light, V12 engine with four valves per cylinder was a first in the new generation of Ferrari cars. Sports Car International ranked the car third on their list of top sports cars of the year 2000. Consequently, it also ranked fourth in Motor Trend Classics' Ten Greatest Ferraris.
Performance
The Enzo was designed by Japanese Pininfarina head Ken Okuyama was initially introduced at the 2002 Motor Show in Paris and had a limited number of units priced at $ 659,330. Pininfarina wanted a car the will be entirely different from the usual approach used for its predecessors (GTO, F40 and 50). A mid-engine vehicle whose weight distribution is at 43.9 at the front and 56 in the rear, the Enzo has variable valve timing and dual overhead cams to add to its naturally aspirated engine.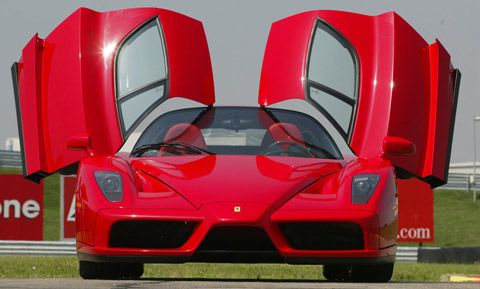 It is designed with an automatic transmission (F1 gearbox) and uses paddles to control its clutch mechanism and automated shifting. The LED light right at the steering wheel tells the driver to shift gears as necessary. Their independent four wheel suspension with actuated shock absorbers are adjusted right inside the cabin and have front and rear anti-roll bars. The 19 inch wheels uses Brembo 15 inch disc brakes and are held by a lug nut. They are fitted with RE050A Potenza Scuderia tires. The car can accelerate up to 60 miles per hour in merely 3.14 seconds and reaches 100 miles per hour in a short 6.6 seconds.
Only 399
Serious drivers will find that the Enzo is what their car dreams are made of, however getting their hands on one will be a bit of a challenge since only 399 units were manufactured. Ferrari cars have always been known for its high speeds and distinct lines. The Enzo is an extreme super sports car whose racing capabilities have been hard to resist. One notable fact is that each time one of these supercars crashes, the cost of the remaining Ferrari Enzo's goes up, currently it is as much as $1,000,000.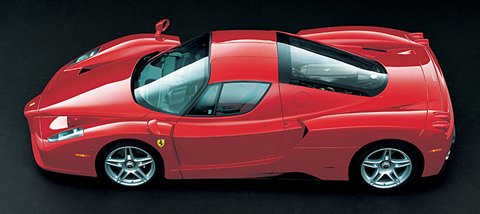 It would be a rare but a beautiful sight to see this on the freeway, however, due to its limited availability, you may realize that most owners will have this super car tucked somewhere in their garage to be looked at. Getting behind the wheel will require wide open spaces without any other cars around. Overall, for someone who loves racing and all its glory, the Ferrari Enzo is one of the greatest vehicles ever made. This wonderfully crafted beauty deserves its fame and success and will surely make a statement anywhere.
Specifications
General Info

| | |
| --- | --- |
| Vehicle Type: 2 Door Coupe | Base Price: $644,000.00 |
Dimensions

| | |
| --- | --- |
| Length: 185.1 in. (470 cm) | Width: 80.1 in. (203.5 cm) |
| Height: 45.2 in. (114.7 cm) | Wheel Base: 104.3 in. (264.9 cm) |
| Curb Weight: 3020 lbs (1369 kg) | Maximum Seating: 2 people |
Performance

| | |
| --- | --- |
| Engine: 6.0L 48-valveV12 | Displacement: 5988 cc |
| Horsepower: 660 HP | Max RPM: 7800 RPM |
| Torque: 657 lb-ft @ 5500 rpm | Transmission: 6-Speed Manual w/ auto shift |
| 0-60 mph: 3.65 seconds | Top Speed: 217 mph (350 km/h) |
Ferrari Enzo vs McLaren F1

[nggallery id=9 template=caption ]
Ferrari Enzo in Prague

Ferrari Test Drive & Review in French

Ferrari Drift