The 2009 Ferrari California Production is a high performance two door sports car with a retractable hard top.
The Ferrari California features Tire Pressure Monitoring System, Traction Control System and an aluminum retractable hard top which can be opened or closed within 14 seconds.
The Ferrari California features a 4.3 L V8 engine with direct fuel injection that delivers high performance, exceptional handling and a better mileage. The capacity of the engine is 4300 cc and it delivers an output power of 460 bhp at 7750 rpm and 485 Nm torque at 3500 rpm. The Ferrari California reaches the speed of 60 mph in less than four seconds and the top speed is about 193 mph.

The Ferrari California features 7-speed automatic transmission and 6-speed manual transmissions. This transmission ensures sporty performance, reduces vibrations and helps to shift the gears dynamically at higher speeds.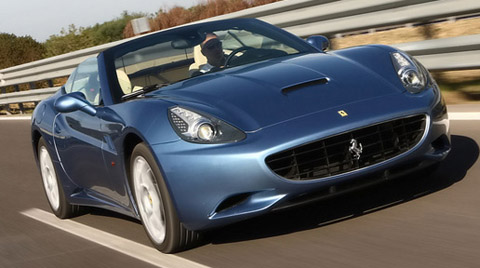 The Ferrari California gives a thrilling and sporty driving experience and it consists of three driving modes which are
Sport Mode: -
This mode delivers a high performance and perfect grip at all driving conditions.
Comfort Mode: -
This mode ensures comfort driving on all road conditions.
CST-OFF: -
This mode allows the driver to take control of the car.
The Ferrari California features five spoke 19-inch aluminum alloy wheels with Magnetorheological Suspension Control System that reduces noise, vibration and delivers a comfort and smooth drive on all conditions.
The exteriors feature the aluminum retractable hard top, bi-xenon headlights, LED rear lights and mirrors. The interiors are mostly finished in leather and it features the leather seats, sporty steering wheel, TFT Multidisplay, Ipod connector, hard disc, USB connection, 6.5 inches touch screen, Bluetooth and a large luggage space.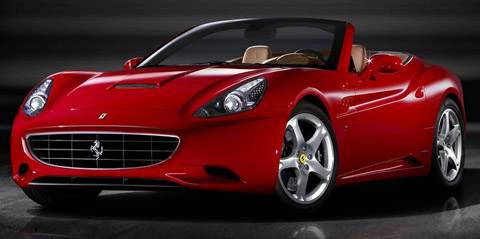 Specifications
Vehicle Type: - 2-door hard top convertible
Configuration: - Front Engine
Engine: - 4.3 L V8
Capacity: - 4300 cc
Torque: - 485 Nm at 3500 rpm
Horsepower: - 460 bhp at 7750 rpm
Transmission: - 7-speed automatic and 6-speed manual
Wheelbase: - 2670 mm
Length: - 4563 mm
Width: - 1902 mm
Height: - 1308 mm
Weight: - 1765 kg
0-60 mph: - less than four sec
Top speed: - 193 mph
Ferrari California Review & Test Drive