Since its early days, Ferrari has always been known as a manufacturer that has been able to harmonize form and function. What you can expect from every Ferrari is that they both have trend setting style with world beating performance. Historically, one segment that they are known for is their mid-engine sports cars. This segment includes legends such as the F355, the 360 Modena, and the F430. And now, the latest iteration is here. Introducing, the 2010 Ferrari 458 Italia.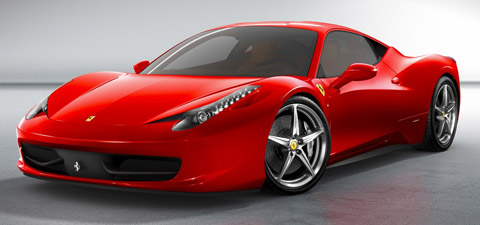 Performance
At the heart of the Ferrari 458 Italia is a 4500cc V8 engine, a beast that is refined by the rigors of Formula 1. Its output is amazing to say the least: 570 horsepower at 9000 rpm and 398 lb/ft at 6000 rpm to be exact. If you shall equate that, this engine produces a whopping 127 horsepower per liter, production well within supercar territory. Not only that, this new engine is not just a monster, it is a very efficient monster too.
A fuel consumption rating of 21 miles to the gallon is a very impressive number considering its performance credentials. Not only that, it produces only 307 grams per kilometer of emissions. It is mated with a Formula 1 inspired 7-speed transmission with dual clutch. This pairing is enough to launch this car from zero-to-100 kilometers per hour in 3.4 seconds and carry it to a top speed of within 200 miles per hour.
Exterior & Interior
The first thing that you will notice about this car is its very radical styling. Designed by known designing house (and cohort to some of Ferrari's greatest) Pininfarina, it is a mash up of classic Ferrari styling cues and more revolutionary ones. The end result is a radically styled 2-seater that can cut thru the air with ease with its superior aerodynamics. The front and back ends are designed in such a way that it can create optimum downforce, reduce drag, and provide cooling to specific parts of the car, whatever the speed. Also, the interior matches the flair of the exterior.
With the interior design created by Ferrari Chief Designer Donato Coco and inputs coming from legendary racer Michael Schumacher, it features improved ergonomics and some race inspired gadgetry such as a steering wheel that incorporates various functions. With some generous application of leather and Alcantara, the interior is every bit stylish and performance oriented.

The Competition?
A car like this has its rivals too. Cars like the Nissan GT-R (MSRP $89,950), the Chevrolet Corvette (MSRP $49,525), the Lamborghini Gallardo (MSRP $237,600), and the Audi R8 (MSRP $114,200) make this line a very competitive and compelling one. But the 2010 458 Italia can compete with the best of them. All of these cutting edge features come at a price though. With a price tag hovering around $225,000 dollars, this supercar doesn't come cheap at all. Then again, it is a legitimate Ferrari. And this just might be the definitive Ferrari for this generation. Fast, efficient, and functionally beautiful, it just might be the start of a new chapter for the house that Enzo made.
Specifications
General Info

| | |
| --- | --- |
| Vehicle Type: Coupe | Est. Price: $225,000.00 |
Performance

| | |
| --- | --- |
| Engine: 4.5-liter V8 | Horsepower: 570 HP |
| Transmission: 7-Speed Automatic-Manual | Maximum Seating: 2 people |
| 0-60 mph: 3.4 seconds | Top Speed: 202 mph (325 km/h) |