As though the Scuderia Spider 16M, whose production was limited to just 499 units, weren't exclusive enough, Ferrari decided to take it a step further. This is where Novitec Rosso, the world's top refiner of sports cars, comes in.
In the capable hands of Novitec Rosso, Ferrari's Scuderia Spider 16M was fitted with the trademark Novitec Rosso Race bi-compressor engine with a horsepower of 696 bhp at 8,400 rpm and torque of 503 lb.-ft. at 6,300 rpm. Thus, the 2009 Novitec Scuderia Spider 16M was born. The new engine enables the Scuderia Spider to reach 60 mph in 3.4 seconds and to rocket to a top speed of more than 205 mph.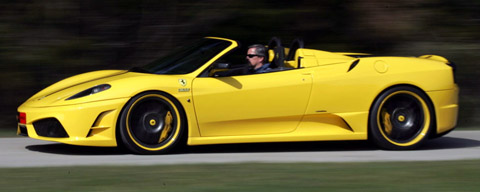 Because of the high-performing engine, Novitec Rosso specially manufactured a heat-insulated intake manifold that has larger cross-sections to provide the engine with pre-compressed air. Those who would like to further enhance their Spiders can choose from sporty options like sport springs, a lift system for the front axle, 20-inch wheels, and various exterior and interior accessories.