Land speed records are synonymous with those who achieve the fastest speed on a wheeled vehicle. It could be a motorcycle, a car, even a jet propelled vehicle qualifies. Truth be told, in setting speed records, "cars" are non-existent.
Different associations from different countries collaborated to establish land speed records. They follow specific criteria when recognizing land speed records. They are as follows:
1) You have a fixed length course to drive on (i.e.Bonneville Speedway, Black Rock Desert, Daytona Beach)
2) Obtain the speed over two passes (round-trip) within one hour
3) You get the average of those two, and that is your record. To establish a new record, you must surpass the existing record by at least 1 percent to be considered a valid record-breaker.
The first recognized land speed record on a wheeled vehicle dates back to 1898 in Acheres, France. The speed was just under forty miles per hour. Many attempts throughout the next 40 years since that first record were made for wheeled vehicles. The last record to stand for wheel driven vehicles was in 1938, on the Bonneville Salt Flats with a speed of 345 MPH, nearly ten times faster than that first one.
The record stood for 25 years. After 1938, the world was entrenched with WWII, the Korean War, and The Cold War. Suddenly in the 60s, that "need for speed" found its way back to men psyche. They saw how the jet and rocket engines were used to win the war. Yeah, of course they were on planes, but why not on the ground? This signaled a new advent in setting land speed records, using a jet or rocket engine to propel man faster.
Of course, why not pick up where they left off? At the Bonneville Salt Flats. In September 1963, with national pride overflowing in the USA, the latest attempt of a world record would be made. This time, it was a three-wheeled vehicle using a turbojet engine pushing it across the salt flats at 408 miles per hour. Driven by American Craig Breedlove, The Spirit of America raced across the Utah landscape faster than anyone had at that time.
Bonneville Salt Flats became the destination for men who aspired to push it to the limits. In 1970, "The Blue Flame", a rocket propelled vehicle, made the headlines by reaching six hundred and thirty miles per hour. The record stood for 13 years. A man from the UK, Richard Noble, drove a British designed, turbojet propelled, vehicle, Thrust2, at 633 miles per hour in 1983.
The British invasion continued fourteen years later, in October 1997, Andy Green, a member of the British Royal Air Force, reached supersonic speed. This time, Black Rock Desert, a dry lake bed in Nevada witnessed the historical blur of Andy Green. The engine, a turbofan, powered ThrustSSC at a speed of 763 miles per hour.
Who's going to set the next land speed record? Stay tuned!
Top Ten Fastest Land Speed Records
1. Thrust SSC – Great Britain (763 mph)
Former British Royal Air Force Pilot Andy Green set the fastest recorded speed in October 15, 1997 at Black Rock Desert, Nevada. At 763 mph, Green is the frist to reach supersonic speed on land. The ThrustSSC, blended the know how of 4 British gentlemen, Glynne Bowsher, Ron Ayers, Jeremy Bliss, and Richard Noble, himself a record holder. They used a turbine gas engine (turbofan) by Rolls Royce, the recognized leader in aircraft engineering.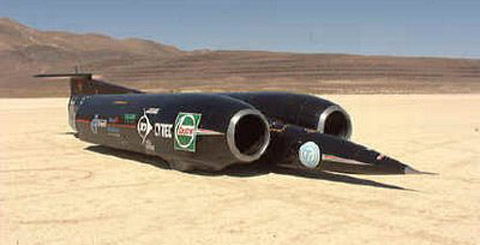 2. Thrust2 – Great Britain (633 mph)
Richard Noble bursts into the scene of Land Speed Records at Black Rock Desert, Nevada on his Thrust2 in October 4, 1983. Clocking at six hundred thirty three miles per hour using a single Rolls Royce jet engine, Noble became the first Brit since George Eyston to establish a land speed record.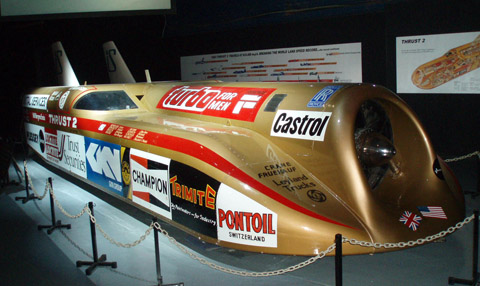 3. The Blue Flame – United States (630 mph)
Driver Gary Gabelich, a native of San Pedro, California, sat on the cockpit of the rocket powered vehicle while establishing a record speed of 630 miles per hour across the Bonneville Salt Flats on October 23, 1970. Built in Milwaukee, Wisconsin, the engineering used in the Blue Flame saw the combining of hydrogen peroxide and LNG(Liquid Natural Gas).

4. Spirit of America Sonic 1- United States (600 mph)
Craig Breedloves last attempt on the Bonneville Salt Flats on November 15, 1965. An updated version of his Spirit of America Sonic 1, he clocked an average speed of six hundred miles per hour using a turbojet engine.
5. Green Monster - United States (576 mph)
Art Arfons found himself on the Bonneville Salt Flats on November 07, 1965. Riding is turbojet propelled Green Monster for more time, he established a short-lived land speed record of 576 miles per hour. Art Arfons and his brother Walt built vehicles that varied, mostly dragsters and turbojet powered vehicles, thus the Green Monster.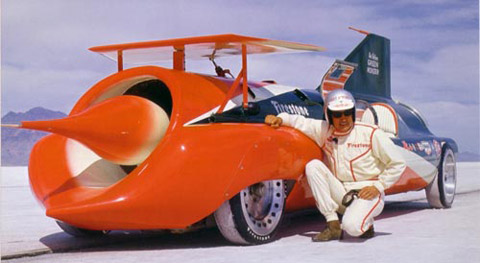 6. Wingfoot Express - United States (415 mph)
The vehicle is a J46 jet powered car driven by Tom Green in 1965 at the Salt Flats in Bonneville. The Wingfoot Express is a product of the collaborative effort between Green and Walt Arfons.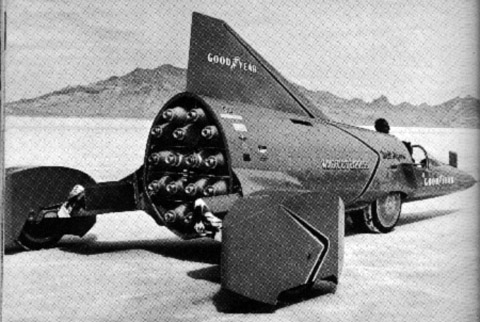 7. Thunderbolt - United Kingdom (345 mph)
Using twin Rolls Royce R-Type V12 aero engine to drive this vehicle, Captain George Eyston set the record that stood 25 years. The record was set on August 28, 1938 at the Bonneville Salt Flats, one year later World War 2 started, thus the reason for the lull in between records.
8. Campbell-Railton Blue Bird - United Kingdom (301 mph)
With the Brits pushing the limits, the Blue Bird was powered by a 2,300 HP 36.7 litre supercharged Rolls Royce R V12 engine in setting the record at the time. Setting the record at the Bonneville Salt Flats in September of 1935, Malcolm Campbell was first to reach the 300mph mark for land locked vehicles.
9. Irving-Napier Golden Arrow - United Kingdom (231 mph)
The record set on March 11, 1929 was made by Henry Seagrave who holds the distinction of establishing both land and water speed records at the same time. A 925 hp, 23.9 litre naturally-aspirated Napier Lion W12 aero engine (ice cooling, no radiator) provided the push for this record setting run at Daytona Beach.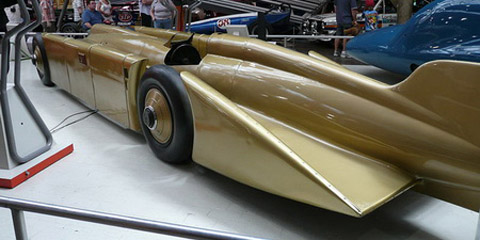 10. White Triplex Spirit of Elkdom - United States (207 mph)
Using three Liberty aero engines from the previous war, Ray Keech, an American, wrestled the record from the British hold of the Land Speed Record. Another run was made later on the same vehicle, but the man driving it, Lee Bible, died during his 2nd attempt.