There is nothing compared to hearing the roar of a Muscle Car zooming down a straightaway. These American made cars are high performance vehicles that were introduced as mid-sized two door coupes with engines having a lot of horsepower during the 1960s. They had been designed for "straight-line" speed.
Classic American muscle cars listed here were available from the 1960s through the 1970s, these were some of the fastest during their time.
1. 1966 Shelby 427 Cobra – 12.2 seconds on a quarter mile at 118 mph. 427 V8 engine with 425 horsepower. In 2007, a 1966 Shelby Cobra was sold in auction for a whopping $5.5 million dollars, of course it had an eight hundred horsepower engine.
2. 1966 Corvette 427 – 12.8 seconds over a ¼ mile at 112 mph. L72 V8 engine with 425 horsepower. Corvettes have been driven by men who are well known in the racing circuit. Recognizable names such as A.J.Foyt, Roger Penske, Dick Guldstrand, and Jim Hall just to name a few.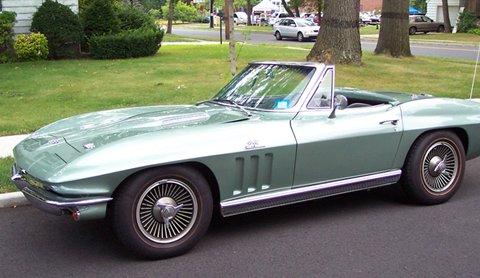 3. 1969 Plymouth Road Runner – 12.9 seconds on a quarter mile at 12.9 seconds. 440-6 engine with 390 horsepower. Plymouth negotiated with Warner Brothers the right to use the Road Runner character in naming this muscle car. The negotiation included the use of the "beep, beep" horn.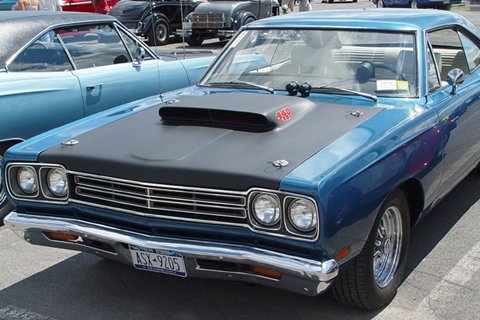 4. 1970 Plymouth Hemi Barracuda – 13.1 seconds on a ¼ mile track at 107 miles per hour. 426 Hemi engine powered with 425hp using a 4 speed transmission. The Barracuda participated in factory sponsored races, one of which was the 1970 Trans-Am Series. The 'Cuda was not successful; however, they garnered several pole positions during qualifying.
5. 1970 Chevelle SS454 – 13.12 seconds running on a quarter mile at 107 mph. 454 V8 big block engine with 450hp. Chevrolet came up with the Chevelle in order to compete with the Ford Fairlane.
6. 1969 Camaro – 13.16 seconds in ¼ mile stretch at 110 miles per hour. The 427 ZL1 with 430hp engine was initially intended for drag racing purposes. Each ZL1 engine took sixteen hours to build in a sanitized environment. These engines were used for both the Camaro and the Corvette.
7. 1968 Chevrolet Corvette. 13.3 seconds on ¼ mile straightaway at 108 miles per hour. Engine was a 427 V6 engine with 435 horsepower using a four speed transmission. Corvettes are given, or shall we say branded, with many names like LT-1, ZR-1, Stingray, ZL-1, and even the Collector Edition moniker.
8. 1970 Plymouth Road Runner. 13.34 seconds on a quarter mile run at 107.5 mph. Engine was a Chrysler 426 Hemi, 425 horsepower. Plymouth had also offered options for the color of the Roadrunner a customer might want. They were designated as "high impact" colors with such names as Vitamin-C (orange), In-Violet (purple), and Moulin Rouge.

9. 1970 Buick Grand Sport Stage 1. 13.38 seconds on a ¼ mile straightaway at 105.5 miles per hour. Buick introduced the 455 cu in V8 engine with 360 horsepower. This vehicle caused an uproar in the 80s when reports said that this GS 455 Stage 1 of 1970 was faster than any Hemi car produced by Chrysler.
10. 1968 Chevrolet Corvette. 13.41 seconds in a ¼ mile at 109.5 miles per hour. A 427 cu in, 425 horsepower engine used, less horsepower than previous model mentioned above. Body color of Corvettes varied, ten different colors if you wanted to get a Corvette, the least produced color was black with 708 produced and British green with 4,779 produced.