The 1996 Dodge Viper RT/10 is a high performance two door sports car and also considered as the second generation Viper.
The Viper RT/10 was also victorious at the 24 Hours of Le Mans race in between the years 1998-2000. A total of 10,000 units have been manufactured where the Viper RT/10 had been sold as Chrysler in Europe. The body of the Viper RT/10 is made of aluminum mounted over the steel frame and it featured one the best looks during its time.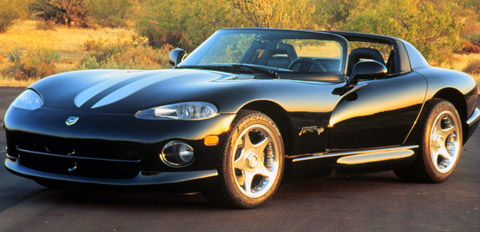 The Viper RT/10 featured a V10 engine with a capacity of 7990 cc. The engine featured Sequential Electronic Ignition, two cylinders, bore measures 101.6 mm and the stroke measures 98.5 mm and delivered high performance.
The engine delivered an output power of 415 bhp at 5200 rpm and 488 lb-ft torque at 3600 rpm. It reaches the speed of 60 mph in 4.7 seconds and the top speed is about 170 mph. The Viper RT/10 featured six speed manual transmission and the gear shifts can be performed easily at higher speeds.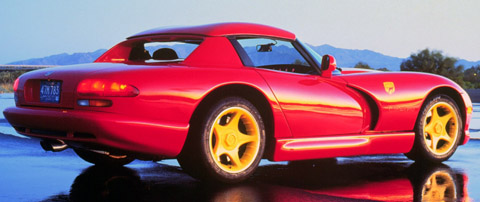 The Viper RT/10 featured Double Wishbone suspension with coil springs on the front and rear resulting in smooth and comfort driving. The Viper RT/10 featured 17-inch 5-spoke alloy wheels with vented disc brakes and aluminum piston calipers that ensured a better braking even at high speeds.
The exteriors featured the door handles, stylish body structure, mirrors, headlights and taillights. The interiors featured the leather seats, sporty steering wheel, air bags and instrument panels.


Specifications
Vehicle Type: - 2-door sports car
Configuration: - Front Engine
Engine: - V10
Displacement: - 7990 cc
Torque: - 488 lb-ft at 3600 rpm
Horsepower: - 415 bhp at 5200 rpm
Transmission: - 6-Speed Manual
Wheelbase: - 2443 mm
Width: - 1923 mm
Length: - 4448 mm
Height: - 1115 mm
Weight: - 3420 lbs
0-60 mph: - 4.7 sec
Top speed: - 170 mph
Price: - 58,500$
Dodge Viper RT-10 Review