The 1997 Dodge Copperhead Concept is a high performance two door sports car with a retractable open top.
The body of the Dodge Copperhead is made of steel and it features air scoop grille, stylish body structure and an open top that is operated by the touch of a button which can be opened or close within a few seconds.
The Dodge Copperhead featured an aluminum 2.7 L V6 engine with a capacity of 2700 cc. The engine delivered an output power of 220.1 bhp at 6000 rpm and 188.1 lb-ft torque at 4900 rpm. It reaches the speed of 60 mph in 6.8 seconds and the top speed is about 135 mph. The Dodge Copperhead featured five speed manual transmission and the gear shifts can be performed easily at higher speeds.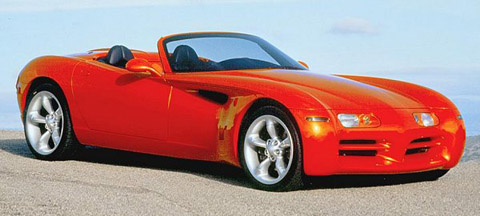 The Dodge Copperhead featured Double Wishbone suspension with coil springs on the front and rear resulting in smooth and comfort driving. The Dodge Copperhead featured 18-inch alloy wheels on the front and 20-inch wheels on the rear. The wheels featured vented disc brakes with Anti Braking System and aluminum piston calipers that ensured a better braking even at high speeds.
The exteriors featured the door handles, open top, stylish body structure, mirrors, headlights and taillights. The interiors featured the leather seats, audio system, adjustable pedals, radio and cassette controls, center console, air conditioning system, power windows, sporty steering wheel, air bags and instrument panels.
Specifications
Vehicle Type: - 2-door sports convertible
Configuration: - Front Engine
Engine: - 2.7 L V6
Displacement: - 2700 cc
Torque: - 188.1 lb-ft at 4900 rpm
Horsepower: - 220.1 bhp at 6000 rpm
Transmission: - 5-Speed Manual
Wheelbase: - 2794 mm
Width: - 1829 mm
Length: - 4242 mm
Height: - 1262 mm
Weight: - 2855 lbs
0-60 mph: - 6.8 sec
Top speed: - 135 mph